Most PRO Detailers know how to safely clean expensive alloy wheels. But how many professional detailers, or weekend driveway detailers, know 'how do you clean dirty tires?' How many of us make tire cleaning part of our regular car wash regime? In this guide, we explain how to properly clean your car tires – in 8 easy steps.
How to properly clean car tires
It's important that we look after and maintain our car tires. After all, they're the only part of the car that's in contact with the road. Having clean, dressed tires, frames the alloy wheels, which also enhances the overall look of the vehicle.
Cleaning and properly dressing car tires will help to increase their longevity. Tire dressings help protect the rubber from UV damage and lock in oils and other chemicals which keep the compound supple.
In this article, we look at how to clean car tires at home, using basic tools, and just a few readily available automotive cleaning chemicals.
Best tools and products to clean car tires?
To clean your dirty car tires safely and effectively, we recommend you use the following tools and products:
Microfiber Towels
Firm Bristled Tire Brush
All Purpose Cleaner (APC) or
Citrus Degreaser or
Tire Dressing (water based)
Tire Dressing Applicator
Pressure Washer or
Garden Hose
How to clean car tires – In 8 Easy Steps
STEP 1: Let your tires and wheels cool down
It's never a good idea to clean a car that's just been driven. Brakes, tires and other sensitive components could still be extremely hot. Cooling them too quickly with water from your hose or pressure washer could damage them. Applying car cleaning chemicals to hot surfaces could have unexpected results, like staining or chemical etching. Once all surfaces are cool to the touch, it's safe to clean your car tires – and the rest of your car too!
STEP 2: Inspect the condition of your car tires
Before you clean your car tires, it's worth taking a few minutes to fully inspect your vehicle's tires. Specifically, you're looking for damage to the sidewall, including bulges in the sidewall of the car tires. Also look for signs of under or over inflation and check the remaining tread depth. Inspect each car tire carefully before any cleaning takes place.
Your tires are arguably the most important safety item on your car. Inspect them regularly and never drive on damaged tires.
Damaged tires may require a different approach when it comes to the products and techniques used in the tire cleaning process. Serious damage, like a bulge or 'egg' on the sidewall may indicate that the tire is damaged beyond repair and is unsafe to drive on. Tires with serious damage should be replaced immediately.
A gouged, nicked or cut sidewall will require further inspection to ascertain the depth of the damage. If the damage is minor and superficial, you should be safe to commence cleaning your car tires.
Old tires are dangerous. Consider replacing tires which are more than seven years old.
STEP 3: Pre-rinse your car tires
Following careful inspection, begin cleaning your car tires with a thorough pre-rinse. The best tool for this job is a pressure washer. Pre-rinsing with a pressure washer will help to clean mud off car tires, as well as removing road salt and general road grime.
If your pressure washer has a fan nozzle or cone nozzle, use this to cut through the dirt on the sidewall. Work from top dead center in a clockwise direction, then when you reach 12 o'clock, go back around counter-clockwise. Take your time, let the high pressure water lift and remove all the dirt that it can. Where possible, angle the jet of water at 45° to reduce the risk of damage to the wheel face or tire sidewall.
STEP 4: Apply APC, Tire Cleaner or Citrus Degreaser
Once the pre-rinse is complete, the best way to clean car tires is to apply your chosen tire cleaning chemical directly to the tire's sidewall. If using a dedicated tire cleaner, follow the manufacturers instructions. If using an APC or Citrus Degreaser, dilute accordingly and apply liberally, coating as much of the sidewall as possible.
When cleaning your car tires with APC or Citrus Degreaser, allow the product to dwell for a few minutes. Rubber is a porous material and will naturally absorb some of the chemical. This is ok as the agitation in the next step will help to remove both ingrained dirt and any absorbed tire cleaner.
Whichever tire cleaner you choose to use, where possible, try to avoid cleaning your car tires in strong, direct sunlight. Cleaning your car tires in strong sun and high temperatures will cause the tire cleaner to dry out too quickly. This will reduce its cleaning ability and may mean using more product.
If you have no choice but to clean your car tires in direct sunlight, or high temperatures, check out our guide on the best way to clean your car in the sun for tips on how to deal with this situation.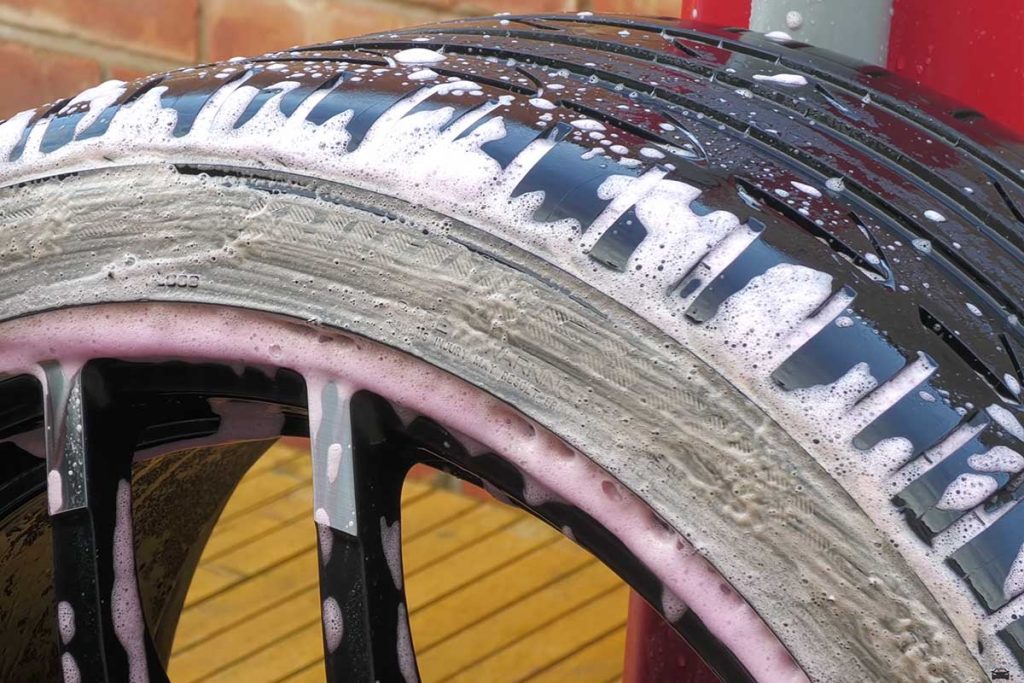 STEP 5: Scrub your car tires
The best brush to clean car tires is a dedicated stiff bristled tire brush. So grab your tire brush and start scrubbing! Don't be shy, get stuck in and use plenty of elbow grease. The best brush to clean car tires is a dedicated, stiff bristled, tire brush.
You may notice at this stage that the tire cleaner foams up and turns brown. This is normal and indicates that the chemical is doing its job, removing dirt, grime and any previously applied tire dressing.
Try to avoid the tire brush coming into contact with the alloy wheels.
Tire brushes should never be used on the face of the alloy wheel. Doing so could scratch the finish of the wheel, or even damage the lacquer on the wheel. For an in-depth guide on how to safely clean your alloy wheels, check out our PRO Detailer Tips article on this very subject.
If you're worried about the possibility of accidentally damaging your alloy wheels with a tire brush, you could use a microfiber towel instead. The micro fibers that make up the pile of the towel do a surprisingly good job of removing dirt from porous rubber surfaces. We recommend that you use an old microfiber towel that will never be used for anything else. This will reduce the possibility of cross-contamination with any other part of your car.
STEP 6: Rinse and repeat
After contact cleaning your car tires with a tire brush or microfiber towel, rinse the tire. Use the exact rinse method we described in step 3. Apply more tire cleaner and scrub your car tires again. Keep rinsing and cleaning until the tire cleaner foam stops turning brown.
If you haven't previously cleaned your tires, a typical daily driven car may need two or three cleaning cycles until the foam stops browning:
Apply tire cleaner
Scrub tires
Rinse tires
Once the foam stops browning, your tires should be clean, free from mud, road salt, road grime and old tire dressing.
STEP 7: Dry your vehicle's tires
After one final rinse, you can dry your car tires using a dedicated microfiber towel, hot air car dryer or leaf blower. If you're 'old skool' you can let your car tires air dry. When dry, you should see that the tires have a uniform, matt black finish. Once your car tires are clean and dry, you can more to the final step.
STEP 8: Apply a water based tire dressing
The final step in the best way to clean car tires is to apply a water based tire dressing. A good quality tire dressing will enhance the tire protect it from:
UV damage
Drying and cracking
Repels dirt and grime
Darkens and enhances the look of the tire.
Some enthusiasts like a high-gloss wet look for their tires, whilst others prefer a dark satin look. There are tire dressings for all tastes.
We're often asked 'what to use to shine car tires'. One of our favourites is the Meguiar's Endurance Tire Gel. This product can be layered to achieve a high gloss finish, or a single application can be buffed back to a satin finish using a microfiber applicator.
Avoid solvent based tire dressings as prolonged use can damage rubber.
Solvent based tire dressings can offer an even deeper wet-look but we don't recommend using these products. Solvent based tire dressings can damage tires over time as these chemicals react with the natural oils in the rubber. These adverse reactions can cause premature ageing of the tire as they degrade the composition of the rubber.
How often should I clean my tires?
Every time you wash your car, clean your car tires and wheels first. Check out our complete step-by-step guide on how to safely clean your wheels. Once you've cleaned your wheels and tires, you can then move on to safely clean your car using the two bucket method.
How long does tire dressing last?
Water based tire dressings typically last a week or two at most. During harsh winter months, you might be lucky to get a week of durability. Your own tire dressing's durability will depend on a range of factors:
Miles driven during a typical week
Prevailing weather conditions
Temperature and road conditions
Type of road surfaces driven on
Regardless of durability, it is still worthwhile applying a tire dressing as even temporary, sacrificial protection and shine is better than none at all.
Can you pressure wash car tires?
Yes. Pressure washing your car tires is a great way to remove heavy soiling, mud, road salt and general road grime which builds up over time. Be careful not to use too high a pressure setting, and don't get too close with your pressure washer lance.
Do tire cleaners damage tires?
No. Dedicated tire cleaners, automotive APCs (All Purpose Cleaners) and Citrus Degreasers will not damage your car tires. These products are designed and formulated to safely clean automotive rubber compounds, as well as other materials like plastic trim. We do not recommend using household products to clean your car tires.
Only use automotive specific products to clean your car tires.
What is the best tire cleaner?
We're often asked 'what is the best tire cleaner?' or 'what to use to clean car tires?'. There are a number of different products on the market, some specifically aimed at tire cleaning, others marketed as wheel and tire cleaners.
In our experience a good quality APC or Citrus Degreaser is as good as any dedicated tire cleaner. All Purpose Cleaners (APC) and Citrus Degreasers are often sold as concentrates allowing you to dilute the chemical according to your needs.
If your tires are relatively clean and regularly maintained, then a lower strength dilution will suffice. If your tires are old, unloved and browning, then a high strength formula will help rejuvenate them.
Can automated car washes damage tires?
Yes. Automated car washes can damage your tires. Automated car washes can damage your car. If you're serious about maintaining the condition of your car, its paintwork, and it's wheels and tires, never, ever use automated car washes.
The harsh, spinning brushes and cleaning mops will scratch your paintwork and can damage your tires. The harsh chemicals used in many automated car washes are not good for rubber seals, weather strips or car tires.
NEVER, EVER use automated car washes. Each time you do, a PRO Detailer cries.
Conclusion
The best way to clean car tires is to use the correct tire cleaners, with the correct tire cleaning tools. If you follow our PRO Detailer Tips 8 Step Process, you'll have clean car tires, which can be dressed with a safe, protective water based tire dressing.
You now know 'how do you clean dirty tires' and the tips contained in this how-to-guide will help you to maintain both the condition and look of your car tires. Why not combine our 'Best Way To Clean Car Tires' guide with your alloy wheel cleaning method and make it a part of your regular car washing process.