The pre-wash stage is arguable the most important element of any safe car wash method. Stjärnagloss Först Citrus Pre-Cleaner is an effective chemical pre-wash, which can massively reduce the amount of dirt and grime on your vehicle before the contact wash stage. PRO Detailer Tips puts their 'Best Selling' product to the test in this Stjarnagloss Forst review.
Stjärnagloss Först Citrus Pre-Cleaner Product Description
Stjarnagloss Först is a Citrus Pre-Wash / Pre-Cleaner product. If your vehicle is really dirty and needs a deep clean, Först TFR will make short work of the stubborn dirt and grime that you'll want to remove, before contact washing the vehicle. The natural orange oil within Först's formula doesn't just boost the cleaning power, it smells great too!
About the Stjärnagloss Brand
In 2010, Stjärnagloss, pronounced 'Ste-Yarna-Gloss', was a little known UK based brand, sold exclusively by the now defunct reseller, Shinearama. Nearly ten years later, in November 2019, the Scandinavian inspired brand was 'Björn Again'.
Headed by experienced detailing industry brand manager Jack Cavanagh, the company was resurrected with an entirely reformulated, repackaged and rebranded product range. Stjärnagloss state that their aim is to offer great performing products, honest pricing and a simple range. Their 'Core Four' products cover the wash, polish, protection and maintenance stages of vehicle detailing.
The Stjärnagloss product range is now sold around the world, with the Rag Company being the main distributor in the USA.
How to Use Stjärnagloss Först Citrus TFR Pre-Wash
You may think that Snow Foam is the first step in the pre-wash element of a safe car wash. But take a look at our explanation of the two bucket method or our complete guide to safely washing a new car and you'll see that the 'Pre-Wash' step includes products like Snow Foam, TFR and Citrus Pre-Wash.
Always read the manufacturer instructions before using any chemical product.
When to use Först Citrus Pre-Wash
Traffic Film Removers and Citrus Pre-Wash products can be used all year round but are most often required during the cold, wet, winter months. During the warm summer months, some Pre-Wash products, like Stjarnagloss Först, can be effective at removing baked on bug splatter.
Use Forst Pre-Cleaner before the contact wash stage of your safe, two bucket car wash method. After assembling all of your equipment, wash your wheels and clean your tires first. Then pre-rinse the car with a pressure washer to remove larger, loose particles of sand, grit and dirt.
Then it's time for the pre-wash stage of the safe car wash technique. Apply Först Citrus Pre-Cleaner TFR (Traffic Film Remover). Allow the Pre-Cleaner to dwell for a couple of minutes, then rinse off.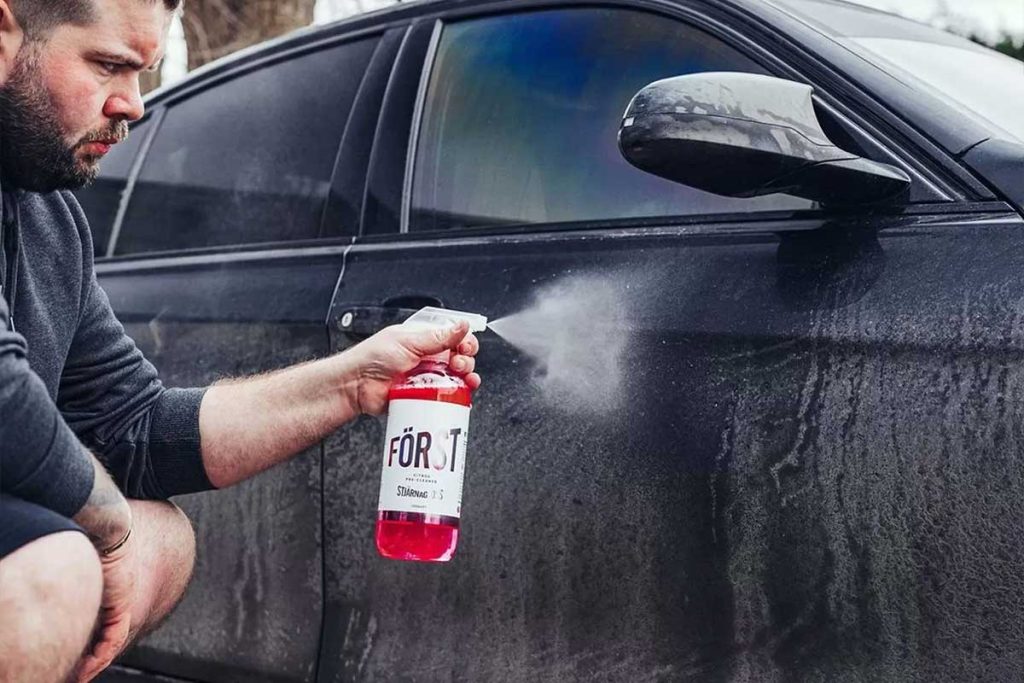 Ease of use of Först Citrus Pre-Cleaner
Stjärnagloss Först ready to use Citrus Pre-Cleaner is super easy to use. Simply spray evenly on to the affected areas, typically the lower third/half of the vehicle and allow the product to dwell for a few minutes.

Covering the entire vehicle can be a waste of product, so spray Forst predominantly on the dirty areas, usually the lower half and rear of the vehicle. Follow this advice and you'll never use more citrus pre cleaner than you need to.
After a few minutes, rinse the vehicle thoroughly before moving on to the contact wash stage. The traffic film, dirt and grime should simply wash away with the water from the pressure washer.
Do not allow Först Citrus Pre-Wash to dry on the paintwork.
Benefits of Using Stjärnagloss Först Citrus Pre-Wash
The main benefit of using Först Citrus Pre-Wash is its ability to dissolve traffic film, loosen dirt and strip grime chemically, without any contact.
This Citrus TFR (Traffic Film Remover) contains powerful detergents combined with natural orange oil. Citrus oils contain Limonene which acts as a strong degreaser. This ingredient helps to make this TFR particularly effective, especially in winter months, in areas where roads are treated with road salt and/or grit to help prevent ice and snow build up.
This combination of chemicals softens, breaks down and strips dirt, road grime and traffic film from your paintwork. Instead of removing this abrasive dirt with your wash mitt, risking damage to your clear coat, use a Citrus Pre-Cleaner and your pressure washer to remove it first.
Increase the dwell time by adding a layer of Snow Foam on top of the Först Pre-Wash.
Another benefit is that Först from Stjärnagloss is a Ready To Use (RTU) product. This means that there are no dilution ratios to confuse the end user. Simply spray, allow to dwell, rinse, then move on to the safe contact wash stage.
Value for Money of Stjärnagloss Först Citrus Pre-Wash
Stjärnagloss Forst is a 'Ready To Use' (RTU) product. This means that Först doesn't need diluting and can be used straight from the bottle. Therefore the cost of $18.00 for a 1 liter trigger spray bottle is quite high. To clean the lower sections of the average sized car could use approximately 250ml of product. This puts the cost per application at around $4.50 which is a high cost per use. Först is available in a 5 liter container for a cost of $70.00. This then puts the cost per application at a more reasonable $3.50.
Stjärnagloss Packaging
The current range of Stjärnagloss car care products come in fairly typical, 500ml or 1000ml white plastic or clear plastic 'Boston Round' type bottles.
The bottle labelling is clean, crisp, includes clear instructions and is printed on chemically resistant foil labels. These foil 'peel and reveal' labels feature instructions and warnings in multiple languages.
The Stjärnagloss branding plays heavily on their Scandinavian theme with all the products having 'Scandi' inspired names. Först is Swedish for 'First'.
Conclusion
I've used Stjärnagloss Först Citrus Pre-Wash on many different types of vehicles and at different times of the year. I like the fact that Först is convenient, being ready to use straight from the bottle. It's a powerful non-caustic pre-cleaner, sweet scented and clings well to vertical panels.
It is certainly effective at dissolving traffic film, bug guts and winter road grime. I've also had success with using it as a tire cleaner and fender liner cleaner, as part of my regular wheel cleaning routine. It works well alongside its sister product, Hjul Wheel Cleaner.
Traffic Film Removers are often frowned upon within the detailing community. But like all products, they have their place. Stjärnagloss Först is non-caustic, appears to contain quality citrus orange oil derived ingredients and is certainly a very effective pre-wash.
Stjärnagloss Först Citrus Pre-Wash makes for an effective Tire Cleaner.
The ONLY criticism I have is the cost per use – which is very high. There are other non-caustic TFR products on the market, which are equally as effective which are sold as concentrates. For some people, Först being an RTU (Ready To Use) product will be a selling point. Convenience will win out over cost effectiveness. Personally, I prefer a concentrate TFR or Citrus Pre-Wash that offers better value for money.
UPDATE
Stjärnagloss have recently introduced Först X – a concentrate version of their Citrus Pre-Wash. Först X is a 1:1 concentrate – 1 liter of product, diluted with water, makes 2 liters of citrus pre-wash. A one liter bottle of Först X costs $26.00, making the cost per application will be $3.25. This is better value for money than regular Först, but there are more cost effective options out there, when it comes to concentrate TFR products.