Can a product hailed as the 'TikTok Towel' live up to the internet hype? In this Sam's Detailing Drying Towel review we put the now legendary twisted loop microfiber drying towel through its paces. Is the Sam's Detailing Drying Towel the King of all drying towels or just social media buzz?
Sam's Detailing Drying Towel Product Description
The Sam's Detailing Drying Towel is a single sided, 600gsm twisted loop microfiber drying towel. This drying towel is safe to use on all interior and exterior surfaces and the towel is machine washable.
About the Sam's Detailing Brand
Founded in 2013 by the titular Sam, Sam's Detailing is a UK based manufacturer of premium car detailing products. From their base in Sheffield, they offer a range of high quality, affordable and accessible detailing products and accessories which are easy to use for both novices and Pro Detailers alike.
Cars and driving is clearly a passion for founder Sam, who states that: "Everyday I push forward to bring my vision of inclusive, easy to use car care to life. By creating high quality products at a reasonable price, with simple instructions, I aim to create a community of both novice and expert detailers alike."
The Sam's Car Detailing brand has amassed a large, dedicated following on social media, including Instagram and TikTok.
The Sam's Detailing products range is sold around the world, in over 20 countries, including in the USA and Canada.
How to Use Sam's Detailing Drying Towel
This might seem like an odd topic – How to use a Drying Towel – but there are a number of different methods to drying a vehicle with a towel.
The Pat Dry Technique
The pat dry technique is possible the least damaging way to use a drying towel to contact dry your paintwork. Carefully lay the towel on the wet panel and pat the back of the towel to aid absorbency. For doors and vertical panels, fold the towel in half or quarters, then hold it on a section of wet paintwork and allow the twisted loop fibres to absorb the water. Slightly re-position the towel and repeat until the panel is dry.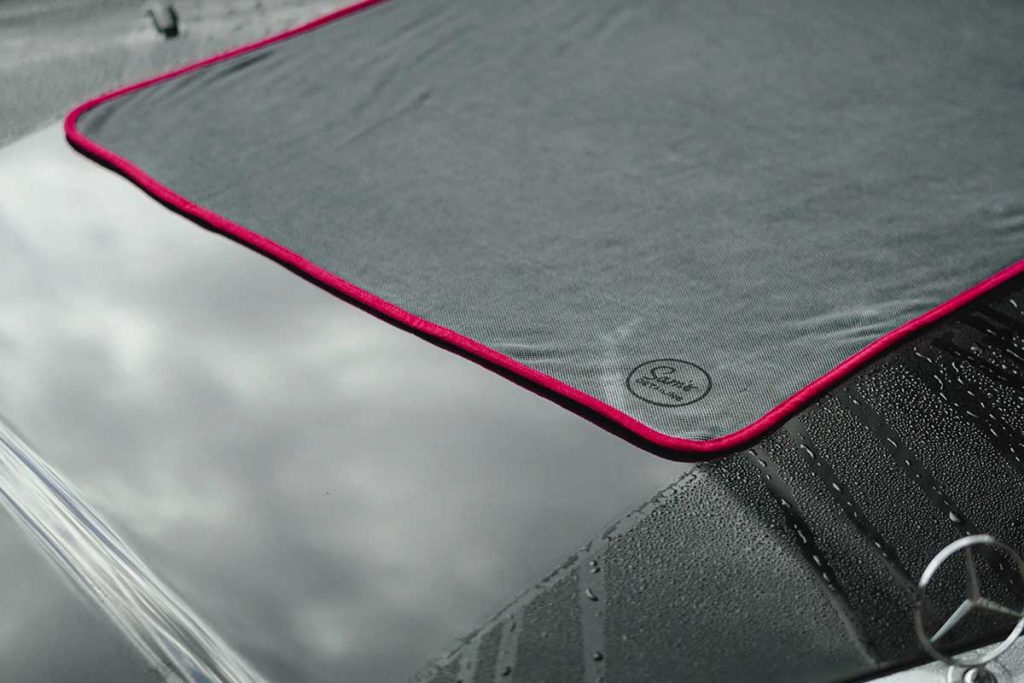 The Drag Dry Technique
The drag dry technique is a faster way of soaking up your rinse water. Lay the towel on the panel, grab the two nearest corners and gently drag the towel toward you. You leave behind a dry section where the towel has done its job. Move the towel to an adjacent wet section and repeat. For vertical panels fold the towel in half, place it in contact with the bottom of the panel and drag it upwards.
The Quarter Fold Technique
Another popular method of contact drying your vehicle with a towel is the quarter fold technique. Fold the drying towel into quarters, then dry one panel or one section at a time. Flip the towel to a dry quarter for the next panel or section. For double sided drying towels, this method gives you eight dry sections of towel. As the Sam's Detailing Twisted Loop Towel is only single sided, you get just four dry sections.
When to use Sam's Detailing Drying Towel
The twisted loop microfiber Sam's Detailing Drying Towel is intended to be used to dry a freshly cleaned but wet vehicle. It's not a towel for applying, spreading or buffing off products like Quick Detailer Sprays or Waxes. Its twisted loop microfiber construction is designed to quickly absorb water.
Ease of use of Sam's Detailing Drying Towel 
Providing you follow a safe car washing routine, like our recommended two bucket safe car washing method, using this towel is super simple. Following the safe wash directions, rinse the car thoroughly, then dry completely using the Sam's Detailing Twisted Loop Drying Towel. 
Once you've washed and dried your car, always remember clean your car washing equipment. Microfiber wash mitts, chenille noodle mitts, microfiber cloths and vehicle drying towels can be laundered. Use a dedicated, specialist microfiber laundry liquid to clean these items before using them another vehicle.
Always launder your microfiber towels in a suitable microfiber friendly detergent after each use.
Benefits of Using Sams Detailing Drying Towel
The main benefit of using Sam's Drying Towel is its ability to absorb a truly staggering volume of water. You can towel dry an average sized vehicle, without the need to wring out the towel or the need to use a fresh one! 
The towel's twisted loop microfiber construction is soft, plush and absorbent. This helps to minimise any micro-marring when the towel is in contact with the paintwork.
Sam's Detailing Drying Towels are available in the following sizes:
The mini towel is intended for use on wheels and awkward, intricate areas. The regular size drying towel is for drying small to large vehicles. The XXL Sam's Detailing Drying Towel is a MONSTER! This beast is capable of drying campers, RVs and trucks! But it can be a bit of a handful due to its enormous size.
Value for Money of Sam's Detailing
The regular sized (28" x 36") Sams Detailing Drying Towel costs $22.00. There are alternative drying towels on the market which are less expensive and some which are more expensive. Other Sam's Detailing reviewshave been critical of the price. We can't test every single twisted loop microfiber drying towel on the market. What we can say is that this is a high-quality drying towel. Like many other Sam's Detailing products, it's pitched as a premium product so it has a premium price.
Sam's Detailing Packaging
All of the Sam's Car Wash Detailing products are beautifully presented in simple, premium, satin black packaging. The product labelling is stylish yet minimal and includes clear, easy to follow care instructions. The Sams Detailing Drying Towel comes vacuum-packed in a foil, tear-open sleeve.
Conclusion
I've been using the Sam's Detailing Drying Towel for a few months now and it immediately became my go-to, first choice drying towel.
Typically, when drying a freshly washed and detailed vehicle, I'll use air from a dedicated vehicle blower or leaf blower to clear most of the water. My detailing mantra has, over time, become 'any contact is bad contact', so the more work I can do 'contactless' the better. But using the Sam's Detailing Drying Towel is such a satisfying process, I'm finding that on my own vehicles, I forego the vehicle blower in favour of this awesome drying towel.
I prefer Sam's own gentle drag technique. Firstly, lay the Sam's Detailing Drying Towel on the wet panel. Then grab the two nearest corners and gently drag the towel towards you, over the panel. The weight of the drying towel and its incredible absorbency leaves the panel completely dry. For doors and other vertical areas, I simply fold the regular sized Sam's Detailing Drying Towel into quarters, gently dry one panel, flip to a dry side, then dry another panel.
If there are any downsides, they are minor. One thing to watch out for with this type of towel is the twisted loops sometimes snag on trim and badges. The loops can get caught on sharp corners and you can pull out a section of microfiber thread. The other minor negative is that this is a single sided drying towel. These are tiny, relatively inconsequential gripes that in no way detract from what is a superb drying towel.If you buy one – and I recommend that you do – you won't be disappointed! The TikTok Towel lives up to the hype!