Whether you're a driveway detailer or a professional with a studio, it's those finishing touches that make all the difference. Restoring, darkening and protecting black plastic trim can make or break a detail. Koch Chemie Nano Magic Plast Care has your back! This easy to apply trim dressing darkens faded plastics, restores them to an OEM finish and protects them with a layer of hydrophobic protection.
Koch Chemie Nano Magic Plast Care Product Description
Koch Chemie Nano Magic Plast Care is a premium product which helps to restore, maintain and protect all external plastic and rubber trim on your car or truck.
About the Koch Chemie Brand
Founded in 1968, by German carpenter Hans Koch, Koch-Chemie prides itself on producing high-quality cleaning and care products. These cleaning products span the washing chemistry, car detailing, workshop and industrial sectors.
In the 50 or so years since its inception, the company has developed into an international brand. In June 2017, Koch-Chemie became part of the international Novarc Group. The Novarc Group are helping the brand to grow and expand into new territories, including the USA. In July 2020, Koch‑Chemie (USA) LLC was founded. Koch‑Chemie (USA) LLC is headquartered in Atlanta, Georgia.
Koch-Chemie are one of only a handful of car-care and car detailing product manufacturers to have been tested, certified and approved by automotive manufacturers and suppliers including:
Daimler AG
BMW AG
VW, Audi AG
Dekra AG
Koch-Chemie offers a high quality, innovative, environmentally friendly range and are one of the few companies to research, produce and sell its own products.
How to Use Koch Chemie Nano Magic Plast Care
To begin with, you need to wash your car. For a complete step-by-step guide on how to safely wash your car, check out our PRO Detailer in-depth guide.
Koch Chemie Nano Magic Plast Care is a plastic and rubber care product which you apply to your vehicle, then buff to remove excess product, using a microfiber towel.
Before using Koch Chemie Nano Magic Plast Care, gently shake the bottle to mix the chemicals. Liquid detailing products can sometimes suffer from chemical separation if left to stand for a period of time. Mixing the chemicals will help you to achieve the best results when using the product.
Always read the manufacturer instructions before using any chemical product.
To use Koch Chemie Nano Magic Plast Care firstly ensure that your vehicle is clean and dry. Take a clean sponge applicator and apply a few drops of Nano Magic Plast Care to the sponge. Nano Magic Plast Care is a liquid, not a gel, so be careful not to use too much of the liquid.
Working one section at a time, gently and carefully spread the product across the entire plastic trim area using the sponge applicator. This product is best suited to textured, exterior plastic trim. It is not suitable for use on gloss black or piano black plastic trim.

Once the entire trim piece has been coated, take a clean microfiber towel and gently buff the area to remove excess product.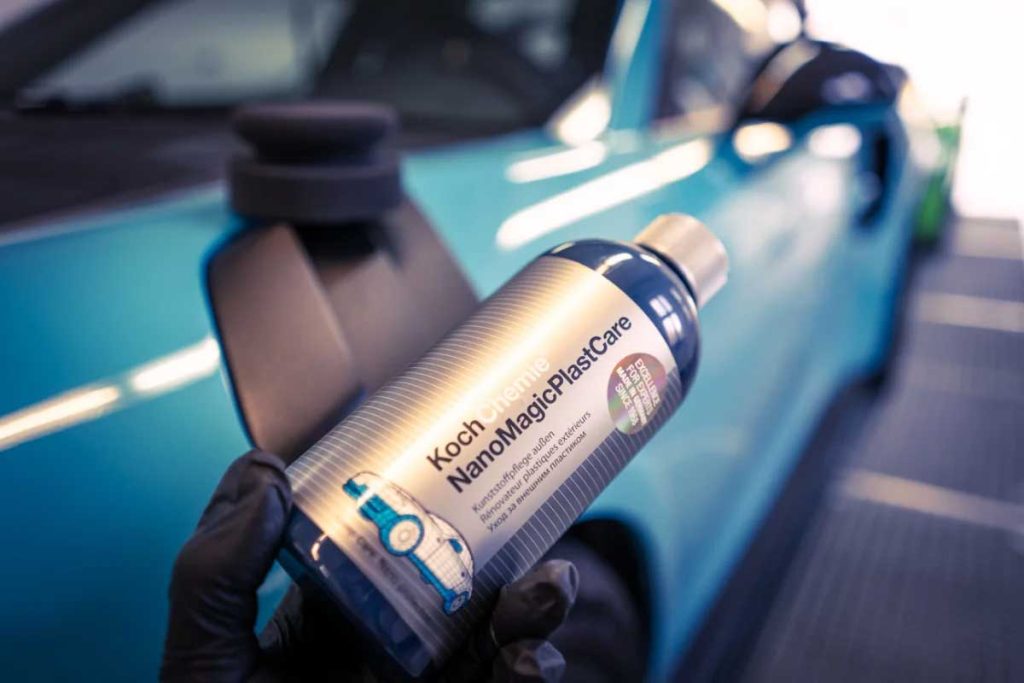 Ease of Application of Koch Chemie Nano Magic Plast Care
We always advise working one panel/section/trim price at a time. Always apply using a clean sponge applicator pad.
Apply the product onto a cool, clean textured plastic trim panel. Spread the product thinly and evenly over the plastic trim with the sponge applicator. It is a thin liquid and spreads easily, with only light pressure needed.
Use a clean microfiber towel to gently buff to remove excess product if required.
Nano Magic Plast Care darkens, protects and rejuvenates textured plastic trim. Water behaviour on the treated trim changes immediately to become more hydrophobic.
Use Koch Chemie Nano Magic Plast Care to rejuvenate door rubbers – but do this last, after treating all the textured plastic.
Benefits of Using Koch Chemie Nano Magic Plast Care 500ml
Koch Chemie Nano Magic Plast Care instantly darkens faded, weathered and UV damaged plastic trim. As well as darkening plastic trim, it also protects it, adding a hydrophobic layer.
The amount of darkening that the product is capable of producing is noticeable. In side-by-side comparisons, you can clearly see the rejuvenating effects that Nano Magic Plast Care offers. Weathered, sun and UV damaged exterior plastics will be easily returned to their dark, satin OEM finish. A single application is often enough to return exterior plastics to looking like new.
An additional benefit of this plastic rejuvenator is its hydrophobic properties. Once treated, exterior plastic trim will repel water. This will help to keep these sections cleaner for longer. It will also help when drying your vehicle after a full contact wash.
Koch Chemie Nano Magic Plast Care can also be used to treat and rejuvenate plastic trim pieces in the engine bay. Plastic engine covers, plastic hoses, scuttle panels and other textured plastic pieces can be restored. First, make sure to thoroughly clean the engine bay plastics with a degreaser or suitable APC (All Purpose Cleaner).
Carefully rinse your cleaner chemical fully, then dry the cleansed areas with a suitable microfiber towel. It is best to apply Koch Chemie Nano Magic Plast Care with a soft sponge applicator pad.
How Long Does Koch Chemie Nano Magic Plast Care Last?
Koch Chemie Nano Magic Plast Care is a very durable plastic trim dressing, capable of withstanding multiple wash cycles over many weeks. We've found that Nano Magic Plast Care can keep textured plastic darker in colour and hydrophobic for more than 6 weeks. Having tested this product on a number of different vehicles, over extended periods of time, we think that 6 weeks is perhaps an under-estimate. The durability of any trim dressing can vary, so your mileage may vary.
Value for Money of Koch Chemie Nano Magic Plast Care
Nano Magic Plast Care is excellent value for money at just $20.00 for a 500ml bottle. This puts the cost of application, based on 10ml of product, of around $0.40 per application.
Koch Chemie Packaging
The Koch Chemie packaging and labelling is very Germanic in style – clear, simple and logical. The instructions and safety information is very thorough and has a multi-language 'peel and reveal' label. The eye-catching blue bottles are recognisable and extremely high quality with the Nano Plast Care bottle featuring a child proof safety screw cap.
Conclusion
Koch Chemie Nano Magic Plast Care only does one thing – rejuvenates plastic trim.

In our opinion, it does this one thing very, very well. PRO Detailer Tips rates this Koch Chemie product very, very highly. So much so, that it's our preferred plastic trim dressing for our own vehicles and there's always a bottle the shelf in our garage.

Amazingly, the bottle in our garage never seems to run out, as so little chemical is needed, even on vehicles with lots of exterior plastic trim. It's so effective at darkening and restoring faded exterior plastics that we don't use anything else!