If you are cleaning or detailing a car with Carbon Ceramic brakes, you need to know how to clean the wheels safely, so as to not damage these expensive brake rotors. In this guide, we show you step-by-step, how to clean alloy wheels with Carbon Ceramic brakes.
More and more sports, prestige and supercars now come equipped with ultra-high performance Carbon Ceramic brakes as standard. These powerful, fade-free braking systems are vastly more expensive, often costing ten to twenty times more, than standard cast iron brake rotors.
It's this high cost which often scares off both amateur and professional detailers alike, as the cost to replace damaged Carbon Ceramic brake rotors and brake pads can run into tens of thousands of dollars.
In this post, we look at why Carbon Ceramic brakes cost so much, why they're used in modern high performance cars and why you need to take extra care when cleaning and detailing the alloy wheels which sit in front of these monster brakes.
With our help, you'll learn everything needed to identify and safely clean wheels with Carbon Ceramic brakes.
Revealed: Everything You Need To Know About Carbon Ceramic Brakes
Why Are Carbon Ceramic Brakes So Expensive?
Carbon Ceramic brakes can be more than 10 to 20 times the cost of normal cast iron brakes. This is mainly due to two important factors:
Cost of materials
Cost of manufacturing
The high grade carbon used in Carbon Ceramic brake rotors is much more expensive than iron which is used in standard brake discs. Additionally, Carbon Ceramic brake rotors have a separate aluminium bell, held in place with expensive, high quality fixings and fasteners.
The manufacturing time also adds to the cost difference. A typical, high-performance iron brake rotor takes just 90 minutes to make from start to finish. It takes over three weeks to make a single Carbon Ceramic brake rotor of the same size and involves specialized equipment and many man-hours of labour during the prolonged manufacturing process.
How Much Lighter Are Carbon-Ceramic Brakes?
The short answer is – a lot lighter! Carbon Ceramic brakes weigh less than half as much as the same size cast iron brakes. As an example a cast iron brake rotor measuring 395mm x 35mm (15.65" x 1.4") weighs 36.5 lbs (16.5 kg). A Carbon Ceramic brake rotor measuring the same dimensions weighs just 16.5 lbs (7.5 kg).
How To Identify Carbon Ceramic Brakes?
Brembo Carbon Ceramic brake discs were first fitted to a production car in 2002 when they came standard on the Ferrari Enzo. For the next 15-20 years they were only ever seen on supercars and hyper cars costing more than $100,000 and even then, they were usually an expensive optional extra. But in 2022, even some high-performance compact hatchbacks, like the 2022 Audi RS3 can be optioned with these race car derived brake systems.
Cast Iron brakes and Carbon Ceramic brakes look very similar but there are some key differences which makes identifying Carbon brakes very simple.
Firstly, Carbon Ceramic brakes are usually huge! This requires equally massive alloy wheels to fit over and around these huge brake discs and callipers. Size alone is not unique to Carbon Ceramics and some Cast Iron brakes are similarly sized. Size is a good clue and first indication, but it's not a guarantee that you're looking at Carbon Ceramic stoppers.
Some auto manufactures, notably Porsche, paint their Carbon Ceramic brake callipers a unique color to denote the expensive materials used. All Porsche Carbon Ceramic Brakes (PCCB) systems have yellow brake callipers. Confusingly, Porsche paint the brake callipers of all their Hybrid vehicles 'Acid Green', a color which to some eyes, looks somewhat yellow. With different auto makers using different colors, plus a host of aftermarket brake systems available to performance car owners, brake calliper color cannot always confirm the brake material used.
The one tell-tale sign that you're dealing with a Carbon Ceramic brake system is the finish of the surface of the brake rotor itself. Carbon Ceramic brake rotors have a crackled, crazed and textured appearance to the rotor surface, with no radial grooves. Additionally, they are darker in color and often reflective like a mirror.
Cast Iron brakes often have tiny radial grooves, similar to the grooves in a vinyl record, which are made by the uneven surface of the brake pad biting down on the disc as it rotates under braking. If you pour or spray water on a Cast Iron brake rotor and wait just a few minutes, the face of the brake rotor will turn rust colored, indicating that they are indeed iron. Carbon Ceramic brake rotors do not change color when sprayed or splashed with water.
Crazed, Crackled and Textured = Carbon Ceramic
Turns Rust Colored When Exposed to Water = Cast Iron
Do Carbon Ceramic Brakes Produce Brake Dust?
Carbon Ceramic brakes DO produce some brake dust however they produce a lot less than normal cast iron brake rotors – about 90% less! And because Carbon-Ceramic brakes contain no iron, the brake dust contains no iron. This means that cleaning the minimal amount of brake dust generated is easy and requires no harsh chemicals.
Do Ceramic Brake Pads Leave Dust?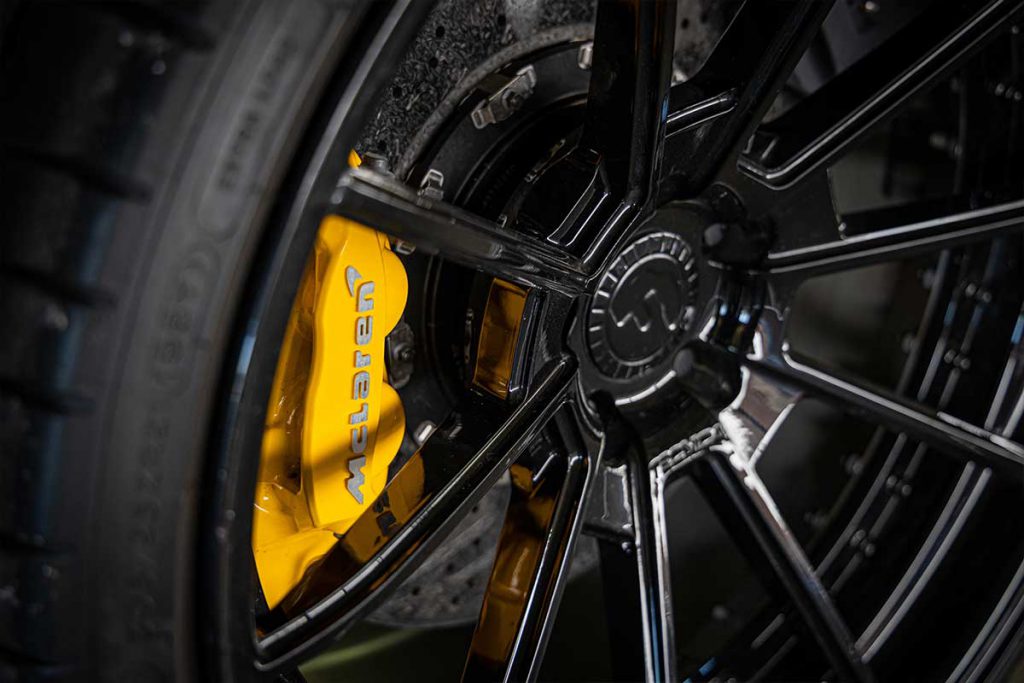 Yes. Ceramic brake pads DO leave dust but they leave a lot less brake dust than the normal brake pads found on cast iron brakes. Ceramic brake pads only leave about 10% as much brake dust and normal brake pads. Minimal effort is needed to remove this brake dust and it can be removed easily with a wax free, pH neutral car shampoo. No harsh scrubbing or acidic chemicals will be needed.
How To Clean Carbon Ceramic Brakes Dust?
Cleaning Carbon Ceramic brake dust from your alloy wheels is a relatively simple task. Firstly, there's a lot less of it to clean as Carbon brakes only produce about 10% as much brake dust as normal iron brake discs. Secondly, as there are no iron particles in Carbon Ceramic brake dust, regular pH neutral car shampoo and water are the only cleaning agents required.
Which Tools and Products are Helpful When Cleaning Wheels With Carbon Ceramic Brakes?
To clean alloy wheels with Carbon Ceramic brakes most effectively, we recommend the following tools and products are used:
Dedicated Wheel Bucket
Dedicated Microfiber Wheel Wash Mitt
Wheel Soap or pH Neutral Wax Free Auto Shampoo
Microfiber Towels
Wheel Woolies
Wheel Barrel Brushes
Soft Boar Hair Detailing Brush
Stiff Bristled Tire Brush
Ceramic Detailer Spray
Citrus Degreaser (Diluted)
Car Dryer or Leaf Blower
Garden Hose or Pressure Washer
Snow Foam Cannon (Optional)
How To Clean Alloy Wheels With Carbon Ceramic Brakes – The Complete Guide
So you've identified that the car you're cleaning has Carbon Ceramic brakes fitted. The Crackled and Crazed finish to the brake rotor confirms this beyond doubt.
You've assembled the correct tools and products listed above and you're ready to begin the careful cleaning process…
STEP 1: When to Clean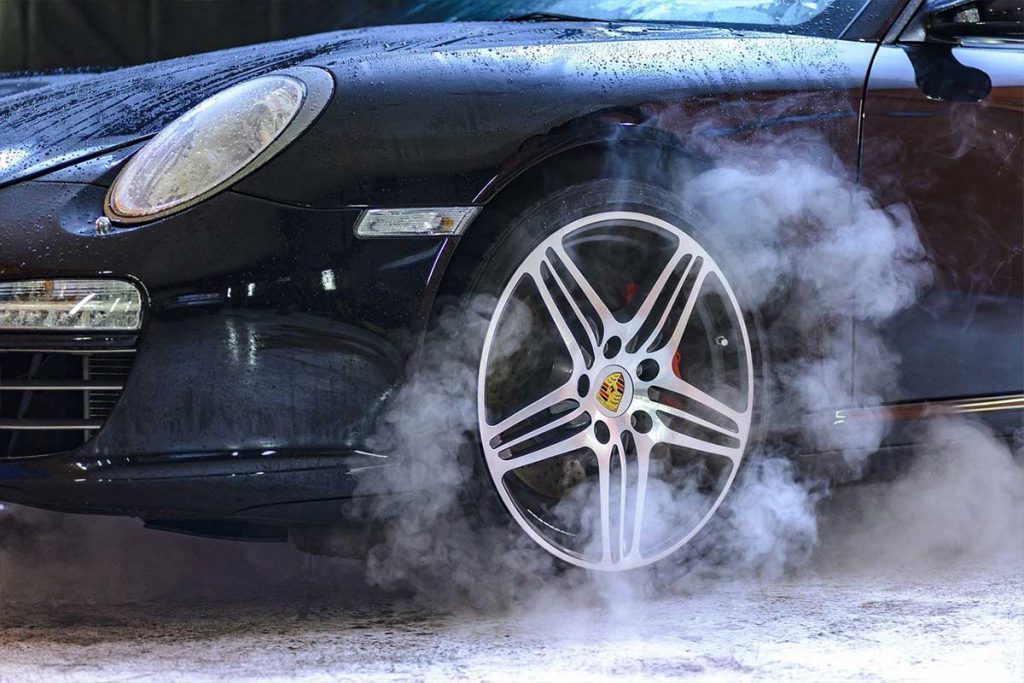 Firstly you need to ensure that the wheels, tyres and Carbon Ceramic brakes are cool to the touch. It's never a good idea to clean hot wheels or hot brakes, be they Carbon Ceramic, or regular Cast Iron brakes. With an un-gloved hand hold the back of your hand about an inch from the face of the alloy wheel. If you feel a noticeable increase in temperature, leave the wheels and brakes to cool down to the ambient air temperature. If you detect no increase in temperature, proceed to the next step.
STEP 2: Prepare Wheel Bucket
We recommend that you use a dedicated wheel bucket to clean all of your wheels but any clean bucket will be ok. Fill your chosen wash bucket with warm water (best) or cold water (perfectly ok) and the recommended dose of your favourite pH neutral, wax free shampoo or wheel soap. To help add lubrication, use your garden hose on 'jet' setting or your pressure washer to foam up the shampoo solution in your bucket. White, tight bubbles and a white foamy consistency is ideal for your wheel cleaning solution.
Good Foam = Good Lubrication
STEP 3: Pre-Rinse Wheels
Using your garden hose on 'jet' setting or your pressure washer on a low to medium pressure setting, rinse the face of the alloy wheels. Take your time to rinse each facet of your wheel design carefully. The more complex the wheel design, the longer this will take.
Carbon Ceramic brakes produce less brake dust and the dust generated is easy to remove, so the pre-rinse stage will remove most of the debris. Minimising the time and aggressiveness of the contact wash stage will help protect the finish of the alloy wheels.
If the alloy wheel design is open, allowing you access to the brake calliper, brake rotor and inner barrel of the alloy wheel, use your hose or pressure washer to get in close and pre-rinse these areas too. Water, hot or cold will not damage Carbon Ceramic brakes.
STEP 4: Pre-Wash & Snow Foam
This is an extra step which will help add even more lubrication to the contact wash stage. If you have snow foam and a foam lance, coat the face of the wheel and inner barrel with foam. The foam will help lift the dirt and will help to safely carry it off the wheel during the contact wash stage.
STEP 5: Clean Inner Barrel
Dunk your wheel brushes, wheel woolies, wheel mitts and microfiber cloths in the soap/shampoo solution in your wheel bucket. Using the long handled wheel brushes and wheel woolies, carefully clean the inner barrel of the wheel. You don't need to apply a lot of pressure or 'scrub' these areas, let the combination of the soap/shampoo and brush/woolie do the work. Just take your time and carefully clean the barrel of the wheel, from in-between each and every spoke, working in a clockwise direction from 12 o'clock (top dead center) around the face of the wheel methodically.
Don't be too aggressive with your barrel brushes! Older type Carbon Ceramic brake rotors are susceptible to impact damage and chipping on the rotor edge.
STEP 6: Clean Wheel Face
Take your wheel mitt or a clean microfiber cloth, dunk it in the soap solution in your wheel bucket. Carefully clean the face of the alloy wheel and each spoke of the wheel. If space permits, try to clean the back of each spoke. Flexible wheel cleaning tools like The WoollyWormit are great at cleaning those hard to reach areas.
STEP 7: Clean Intricate Areas
Using a detailing brush or lug nut cleaning tool, clean the wheel nuts, using the soap in your wheel bucket. If your wheel has an intricate design, then a soft detailing brush is perfect for safely cleansing these areas. Soft boar hair detailing brushes can also be used to clean the brake calliper itself. Use plenty of soap solution and let the bristles of the brush clean the face of the calliper.
This type of brush can also be used to clean the tight gap between the wheel rim and tyre bead.
Avoid using degreaser/citrus degreaser products on your wheel nuts.
STEP 8: Rinse Stage
Carefully rinse the wheel, brake calliper, rotor and the inner barrel of the wheel. Be sure to flush all of the dirt, loose brake dust and snow foam/soap/shampoo solution to leave your wheel clean and ready for inspection.
Now it's time to check your work! Carefully inspect the face of the wheel, the inner barrel and brake calliper. If you've missed a spot, spoke or tough to reach area, then clean that area with the appropriate brush, wheel woolie or wash mitt. Then rinse the area and check your work again. Once you're happy that the wheel is clean, move on to the next step.
STEP 9: Tire Cleaning
Tire cleaning is often overlooked but is key to cleaning your wheels properly. For a full, detailed explanation on tire cleaning, why not check out our in-depth guide on the best way to clean your car tires in 8 easy steps with photos.

Firstly, using a stiff bristled tire cleaning brush, use the soap solution in your wheel cleaning bucket and scrub the sidewall of the tyre. Be careful to avoid making contact with the face of the wheel with this brush. If the shampoo foam turns brown whilst scrubbing, then clean the tire again with fresh soap solution.
If you're trying to remove a previously applied tire dressing then you may need more 'bite' from your cleaning agent. In this instance, apply a couple of squirts of a diluted citrus degreaser or tire cleaner directly to your stiff bristled tire cleaning brush and clean the tire. Repeat this until the foam generated by scrubbing stops turning brown and remains white.
Rinse the tire and wheel and inspect your work. You should have a clean alloy wheel, clean brake calliper and clean tire sidewall.
STEP 10: Dry and Protect
Finally, it's time to dry and protect your wheel. The best way to dry your alloy wheel with Carbon Ceramic brakes is to use a leaf blower or car dryer. Using a powerful jet of air forces trapped water from intricate areas of the wheel, tire bead and dries areas of the brakes that a microfiber drying towel cannot reach.
Dedicated car dyers use heated, filtered air but a leaf blower can be equally effective. Contactless drying is beneficial as absorbent drying towels can trap small particles of dirt in their fibres which can cause scratches when the towel is rubbed over the face of the wheel.
If you don't have access to a car dryer or leaf blower, then we recommend using a dedicated microfiber towel which you reserve for drying wheels only. To help avoid marring and scratches, and to add some protection to your freshly cleaned wheels, why not spritz some Ceramic Detailer Spray onto your microfiber towel to act as a drying aid and to provide extra lubrication. Fold your towel into quarters and gently wipe over the face of the wheel and the spokes, then buff with a clean dry section of microfiber towel.
If you have a favourite tire dressing, apply this as per the manufacturer instructions and you're all done. Just three more wheels to clean!
Can You Steam Clean Alloy Wheels With Carbon Ceramic Brakes?
Yes! Steam cleaning alloy wheels is a safe, effective cleaning method. Best of all, alloy wheels and Carbon Ceramic brakes can easily handle the heat generated by steam and water/steam is totally safe to use on older, more sensitive Carbon Ceramic brakes.
An additional benefit of steam cleaning alloy wheels is that it can soften and help to remove stubborn tar deposits from your alloy wheels without the need for harsh chemical tar and glue removers.
Does Brake Dust Damage Rims?
Brake dust generated by normal, cast iron brakes can damage alloy wheels. This is due to the fact that this type of brake dust is comprised of tiny red-hot fragments of metal, scraped and ground from the face of the brake disc during braking, then flung, at very high speed, straight on to the face of your wheel.
These tiny fragments of brake disc and brake pad material then bake onto the alloy wheel and corrode over time. The particles themselves and the subsequent corrosion, can penetrate the outer layer of the wheel surface, damaging the finish of the alloy wheel.
Brake dust generated by Carbon Ceramic brakes is far less damaging. This is because there's a lot less of it – typically 90% less that cast iron brakes – and it doesn't contain any iron. Most of the Carbon Ceramic brake dust is inert and non-corrosive.
How to Prevent Brake Dust Build Up on Wheels?
There are several ways to prevent brake dust build-up on your wheels. Regular cleaning and careful maintenance washes will help you stay on top of the problem.
The most effective way to tackle brake dust build-up is to apply an wheel specific Ceramic Coating to your wheels. High temperature, wheel specific Ceramic Coatings create an ultra-durable 9H hard layer on top of the surface of the wheel. These extremely hard coatings resist heat up to 350°, offer high chemical resistance and can last for years! Dirt, tar and brake dust struggles to stick to or penetrate the coating making cleaning super easy.