It's here – your brand-new car has arrived! You can't wait to hit the highway behind the wheel of your new ride. After a few days of driving, you park your new car and look back. It looks a little less new, maybe a little dirty. It's time to wash your brand-new car. But how do you safely wash your brand-new car? In this guide, we show you step-by-step how to safely clean your pristine car and avoid making costly, damaging mistakes with your car-care routine.
For many people, their car is the second most expensive purchase that they will ever make. It's only sensible that many car owners want to keep that brand-new car looking as good as possible. If that automobile is daily driven, keeping that 'new car' or 'show car' shine can be a challenge. A challenge that comes with many mis-steps and pitfalls.
With so much information, and mis-information online, we've put together the ultimate guide on the safest wash method for your brand-new car. We cover when to wash, how to wash and which tools and products you should use. Keeping your new ride looking like it just drove out of the showroom couldn't be easier.
With our help, you'll learn everything you need to know about how to clean a brand new car.
Washing a Brand New Car
When Can I Safely Wash My Brand-New Car?
There is a lot of mis-information online stating that you should only wash your new car after two weeks of ownership. This is simply not true.
You can wash your new car the day you collect it. But let's face it, you'll probably be too busy enjoying driving your new car on day one!
The simple truth is, that by the time you've collected your brand-new car, it's probably already been washed at least once, even before you get behind the wheel. 
The New Car Journey – From Factory Assembly Line – To Dealer Showroom
When a new car rolls off the production line at the factory, passes final inspection and is ready for shipping to the dealer, many manufacturers apply thin, temporary, paint protection film to several body panels. This plastic protection film helps to protect the paintwork during transit to the supplying dealer. 
The journey from the factory to the dealer can take days, weeks or months, depending on where in the world the car was produced. Your brand-new car may have travelled by road, rail or sea, even all three!
Transported by Road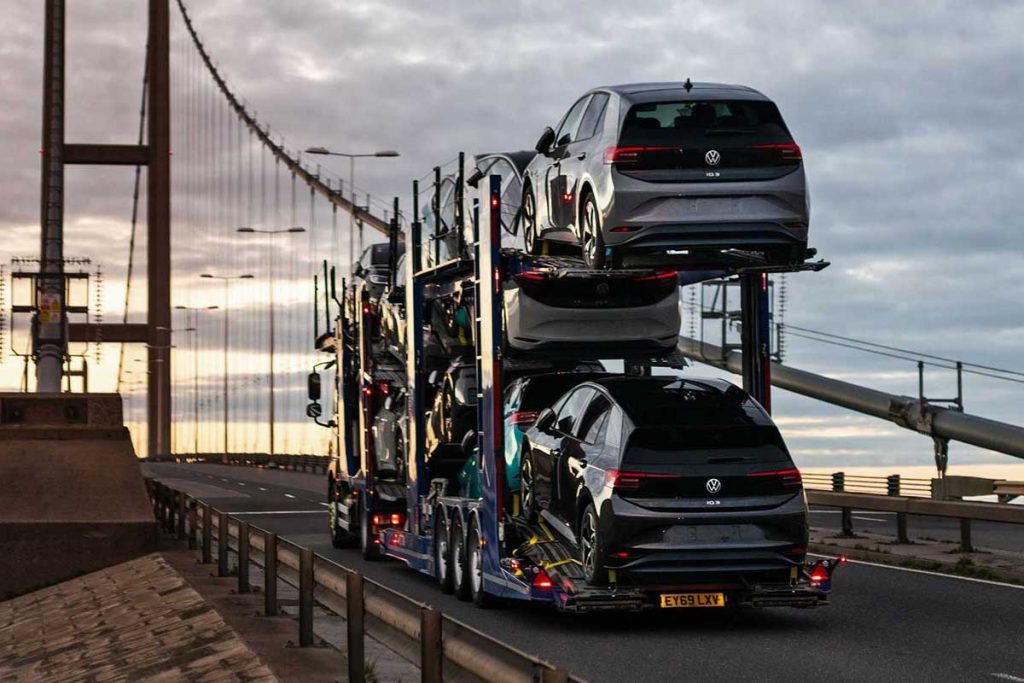 If your new car was built within a few hundred miles of your supplying dealership, then chances are it made its way to the dealer lot on the back of a car transporter, along with several other new vehicles. So your new car has effectively already driven on the highway. It has been subjected to exactly the same kinds of dirt, fallout and contamination as it will during your ownership. Tiny particles of dirt, dust, oil, grease, brake dust, iron particles, tar spots, tree sap, bug splatter, bird bombs and exhaust emissions will have stuck to and contaminated the paint. 
The temporary paint protection film applied at the factory before transport will protect some areas. But not everywhere has this transportation protection film applied. The dealership will remove the protective transportation wrap and will clean the car before you collect it – it's very first wash.
Transported by Rail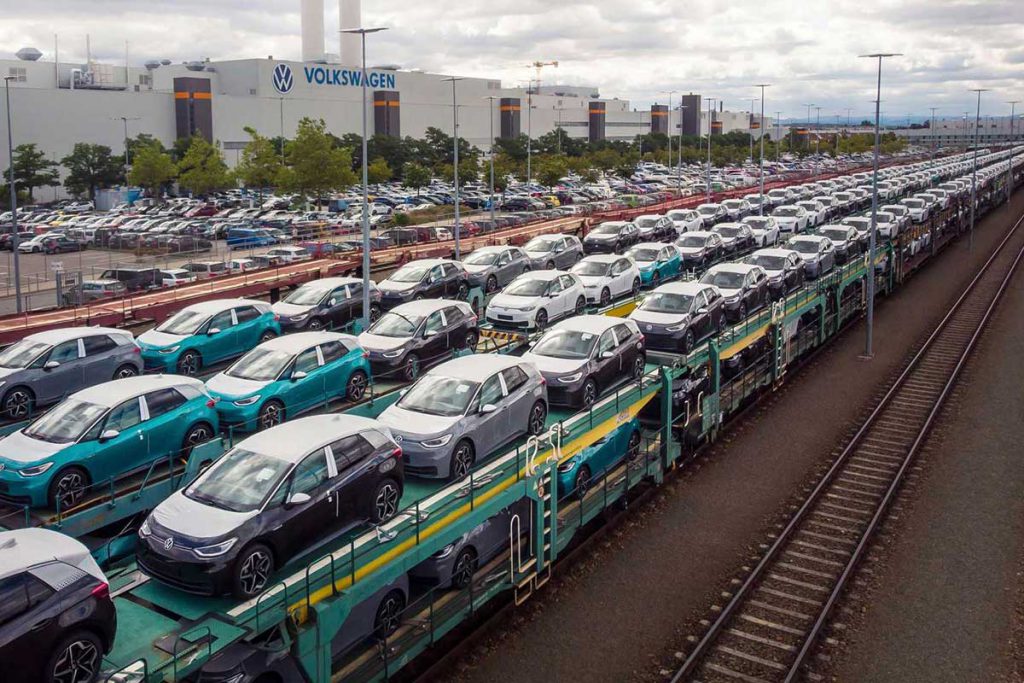 Perhaps your new car was built thousands of miles away? If so, there's a strong possibility that it travelled across the country on a train with hundreds of other vehicles. If this is the case, then your new car will likely have been subjected to even more brake dust and iron contamination from the train carriage brakes and railway tracks. There could even be dirt, dust, oil, grease, bug guts and some bird poo splatter too.
Transported by Sea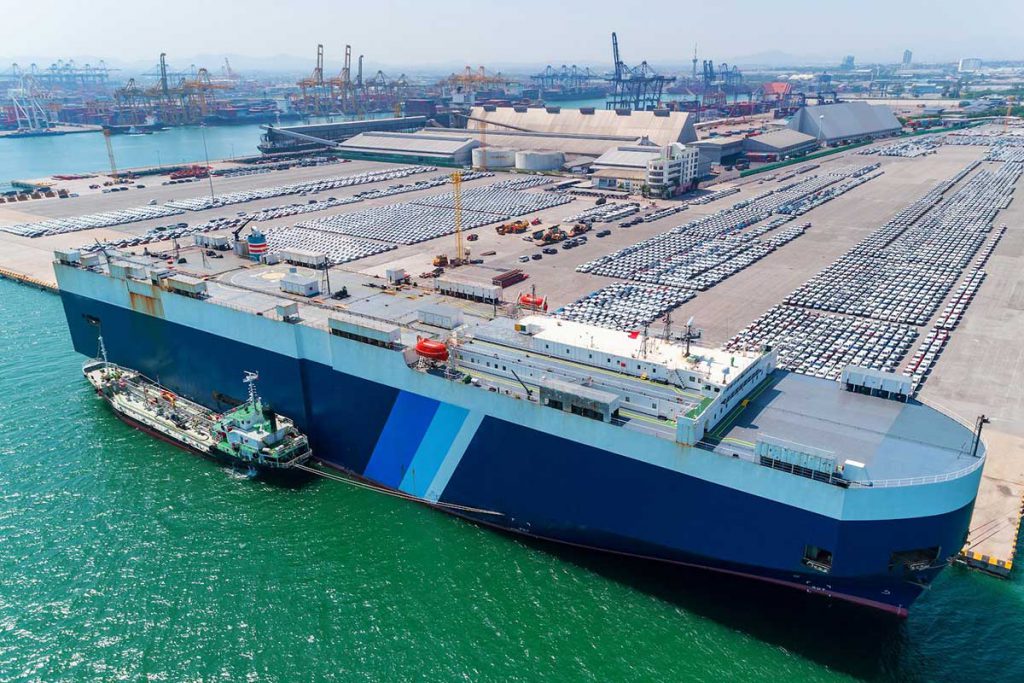 Maybe your brand-new car was built in a factory in another country and was transported on a ship across the ocean, or several oceans! Whilst these vehicles are transported in a controlled environment whilst onboard the transport vessel, they are often delivered with other forms of contamination. Notably, these new cars will sit on the dockside for hours, sometimes days whilst they wait to be carefully loaded and unloaded. Sea spray, salt water and bird bombs from resident seagulls are the most common issues here.

Why Bother Cleaning a Brand New Car?
There are several reasons why you might want to clean a brand-new car. Here are two key reasons:
It's probably not very clean – in fact, it's probably filthy! (to a PRO Detailer's eyes)
You only truly know your new car, once you've washed your new car.
Let's explore that first point – It's probably not very clean. The dealer will have removed the protective transportation film, inspected the vehicle and given it a quick wash by hand. All just in time for your visit on new car collection day. But how well did they clean your new car?
In most cases, the dealer will have given the car a cursory wash. But how much of that embedded transportation contamination will have been removed? And how much remains on the paintwork of your brand-new car? If you follow our step-by-step guide, we will help you to safely remove the embedded fallout and contamination, without inflicting any damage during the wash process.
Assess the paintwork on your brand-new car
To the second point – You only truly know a car, once you've washed a car – here's what we mean. When you take the time to safely wash, thoroughly decontaminate and carefully dry your brand-new car, you have the opportunity to assess the paintwork up close and in detail. If you do this on a regular basis, you'll soon be able to tell how safe and effective your wash method is and when it's time to take your detailing to the next level and undertake a paint correction detail.
Washing your new car by hand yourself affords you the time to find and touch up unsightly new rock chips. You can assess water behaviour and water beading levels, as well as giving you a feel for the quality and overall condition of the paintwork, glass, trim and wheels.
As you wash each panel, with a clean, un-gloved hand, run your finger tips across the freshly washed panel to feel for embedded contamination. 
Washing a New Car For The First Time – The Complete Guide
As we mentioned earlier in this guide, your brand-new car will most likely have been washed by the dealership just prior to you collecting the keys and driving off the dealer lot in your brand-new ride.
Busy car dealerships wash and detail dozens of brand-new, pre-owned and customer vehicles every day. Will their car cleaning team take as good care of your brand-new car as you will? Will they use the best car cleaning products and techniques avaiable? Or do they have a limited amount of time to wash and prepare many different vehicles on any given day?
If you want to be the first person to wash your new car, insist that the dealer supply the car un-washed, and if possible, with the transportation film still on the body panels.
Revealed: The Best Way To Wash A New Car
If you want to keep the paint and bodywork in tip-top condition, then avoid automated car washes and roadside hand car washes. 
Automated car washes induce heavy marring, swirl marks and scratches, damaging vehicle paintwork with their spinning brushes and strong chemicals. 
Many roadside hand car washes do not observe safe washing techniques and do not use high quality car cleaning products. Some rarely change the water in their buckets or bother to change their wash mitts or sponges regularly. That's why they're often referred to as your local 'Sratch 'n' Shine'!
We always recommend that the best way to safely wash a brand-new car is to wash it by hand. Wash with the safe two-bucket method, using only high quality car cleaning products, tools and chemicals, minimising contact wherever possible.
You have the correct tools and products and you're ready to wash your brand-new car for the first time – Read on for our 10 Easy Steps…
STEP 1: When to Wash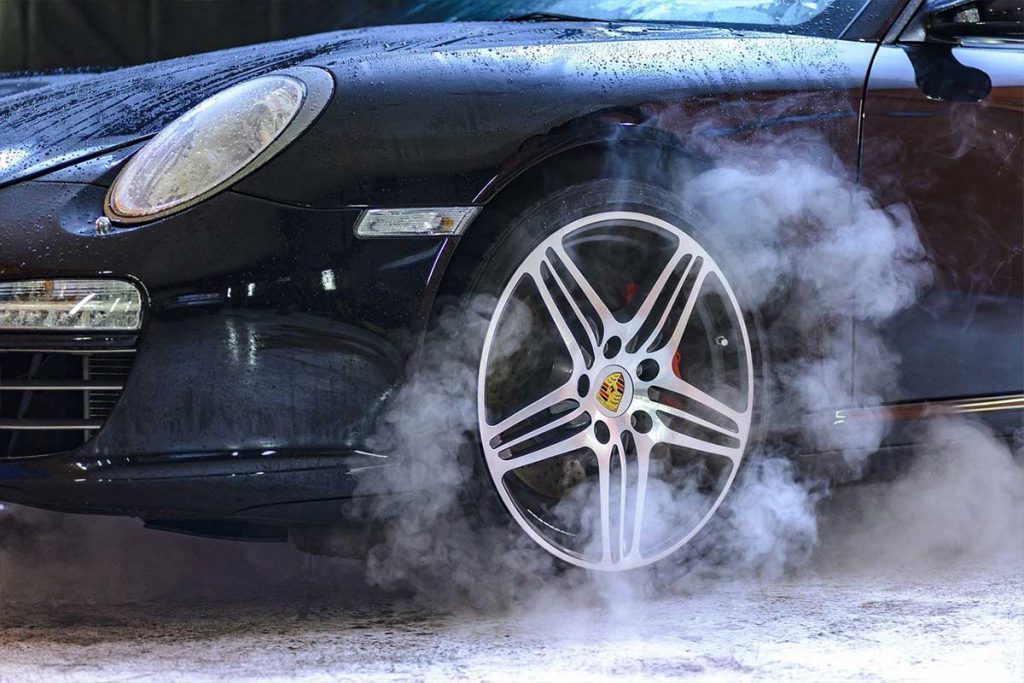 Don't wash your new car in strong, direct sunlight. If at all possible, wash your brand-new car in the shade, early in the day, or later in the evening. Try to avoid the hottest time of the day.
Washing your new car in strong, direct sunlight can cause issues with water spotting, as the rinse water will evaporate very quickly on the hot body panels. As the water evaporates, mineral deposits will be left behind which can be difficult to safely remove.
Some of the chemicals used during the wash process can also evaporate or behave in strange and unwanted ways. As an example, Spray and Rinse Sealants and Protectants should never be used in direct sunlight or on hot body panels. 
PRO Tip: Read the instructions for each car cleaning product you intend to use before you begin to wash your brand-new car for the first time. Those that should NEVER be used in direct sunlight or high temperatures, usually state this on the label. 
Make sure the panels and wheels are cool
Ensure that the body panels, wheels and brakes are cool to the touch. Never wash a car that has just been driven some distance, always wait until the brakes and engine have cooled down.
With an un-gloved hand hold the back of your hand about an inch from the face of a wheel or body panel. If you detect a noticeable increase in temperature, wait a few minutes until the car has cooled.
If you have no choice but to wash your brand-new car in direct sunlight or on a hot day, consider investing in a water filter system which will help to eliminate water spots and mineral deposits. 
STEP 2: Wheel Cleaning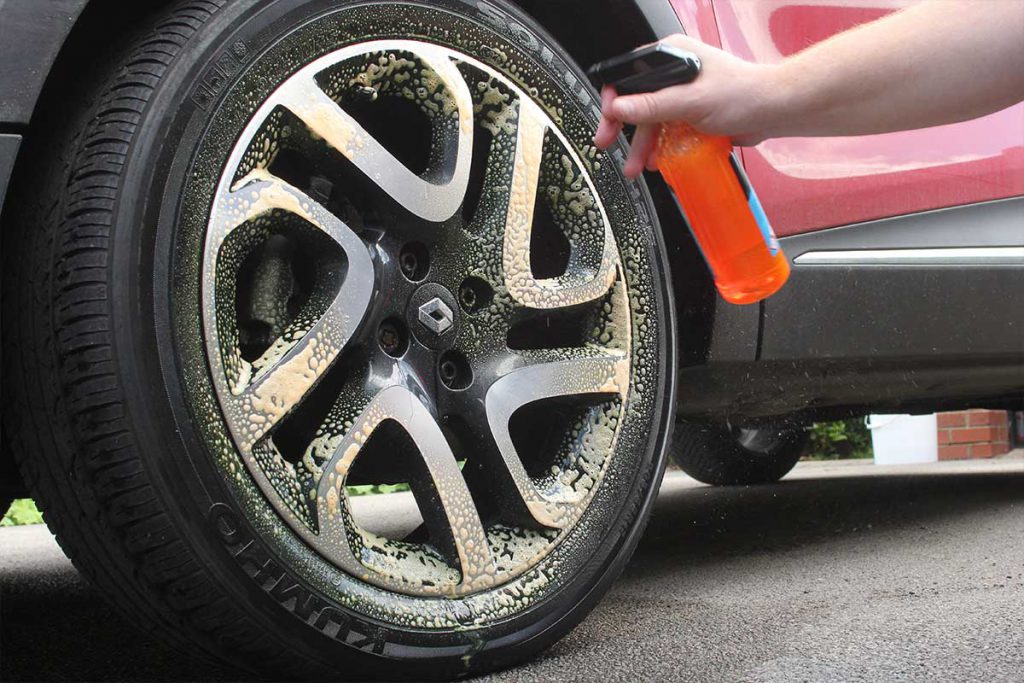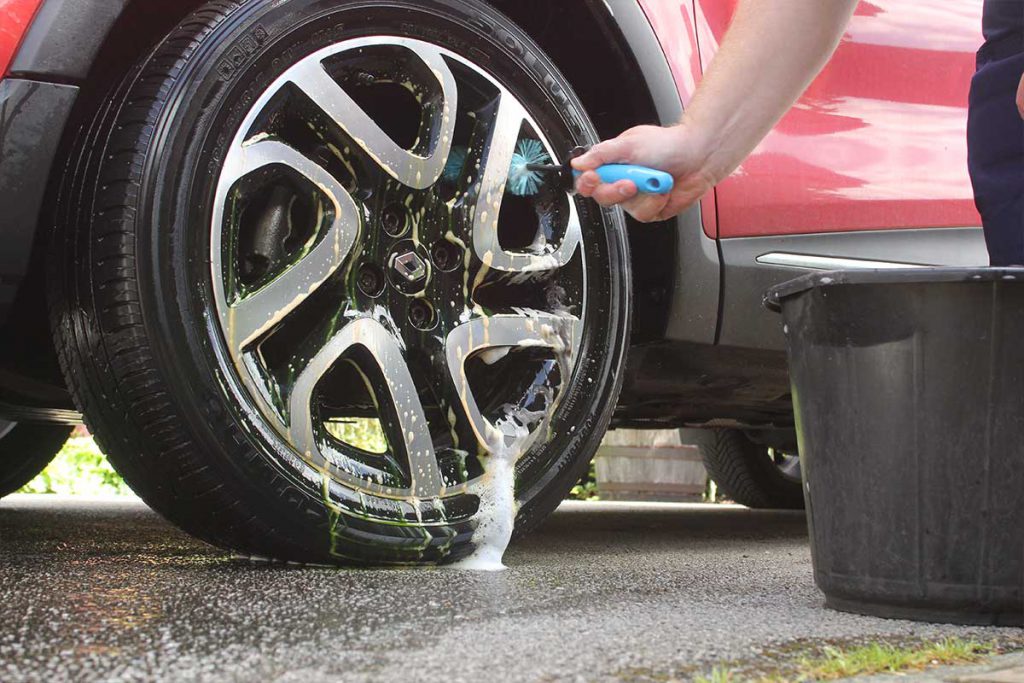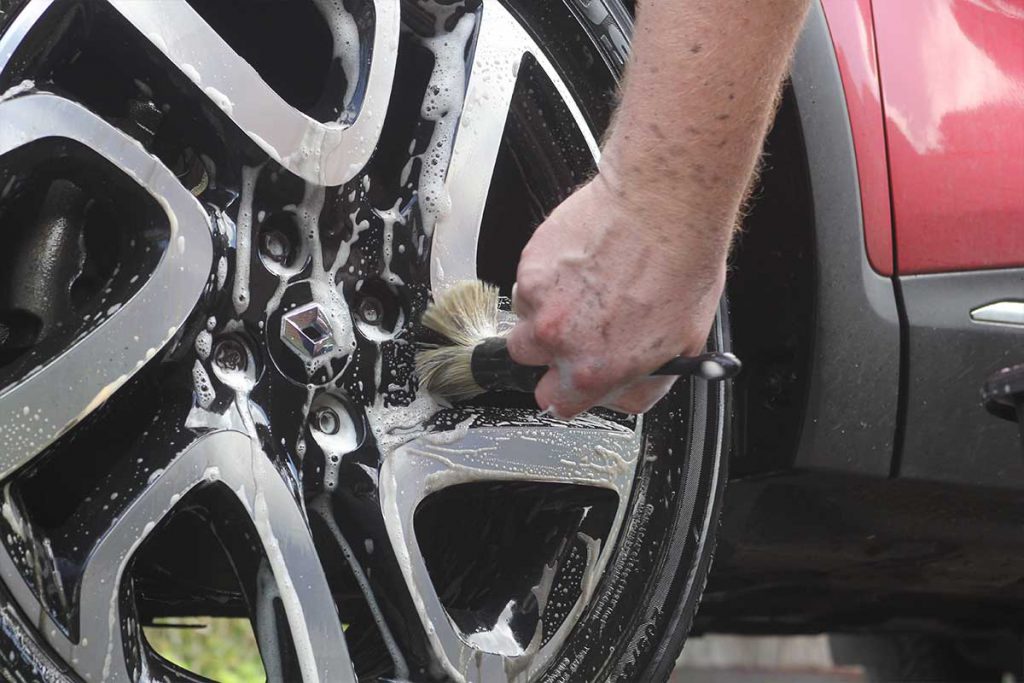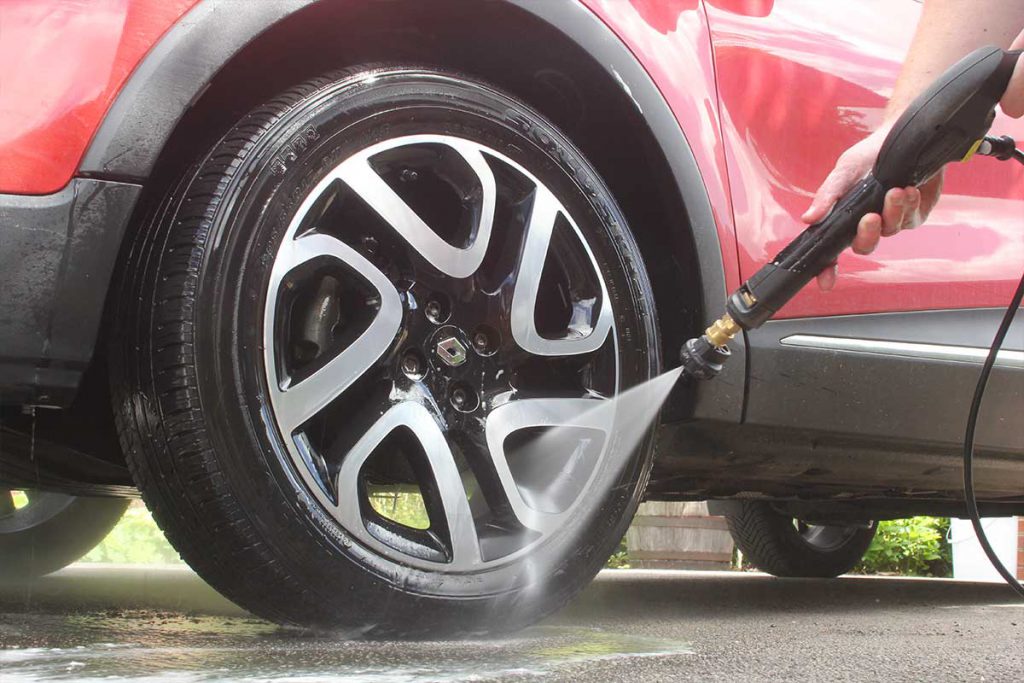 Begin every safe wash process by cleaning the wheels, wheel arches and fender liners. First, flush the inner fenders using your pressure washer or garden hose. Take your time to carefully reach in, angling the nozzle to dislodge as much dirt and grit as possible.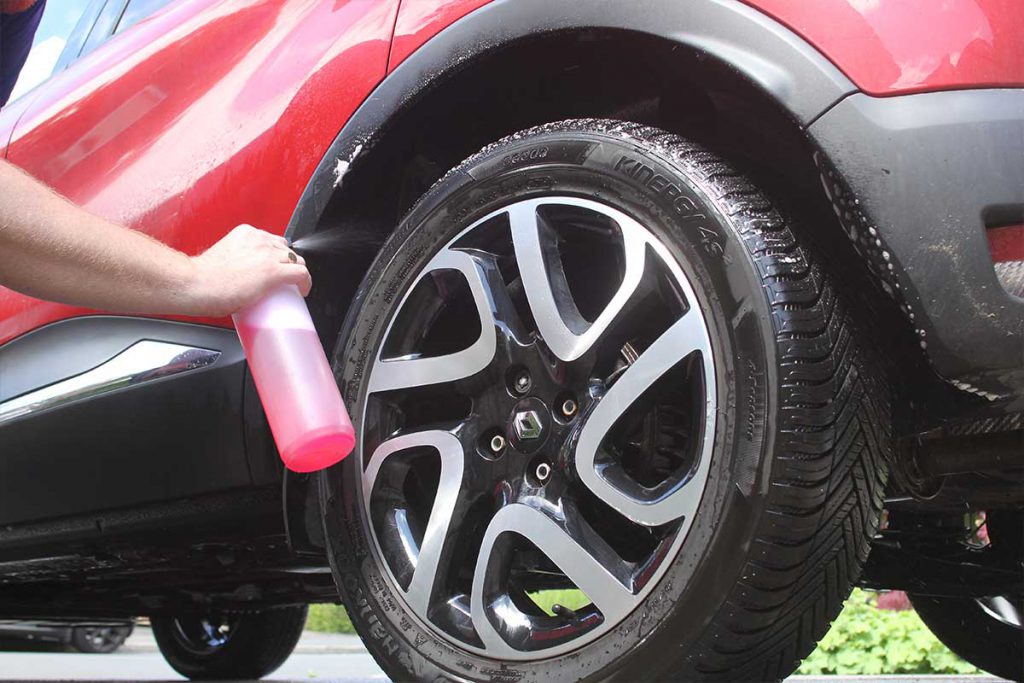 If you have some spray-on Citrus Degreaser or TRF (Traffic Film Remover) apply some to your inner wheel arches and fender liners, allow to dwell for a few minutes, then flush the area with water from your pressure washer.
Clean the inner barrels of the wheels
Carefully clean the inner barrels of the wheels using a suitable long handled brush and dedicated wheel cleaner. Don't apply too much pressure or 'scrub' these areas, let the combination of the soap/shampoo and brush or wheel woolie do the work. 
Take your time and carefully clean the barrel of the wheel, from in-between each and every spoke. Work in a clockwise direction from 12 o'clock (top dead center) around the face of the wheel in a methodical fashion.
Meticulously clean the face of the alloy wheel and each spoke of the wheel. If space permits, try to clean the back of each spoke too.
If your brand-new car has Carbon Ceramic brakes, why not check out our in-depth guide on How To Clean Wheels With Carbon Ceramic Brakes?
STEP 3: Pre-Rinse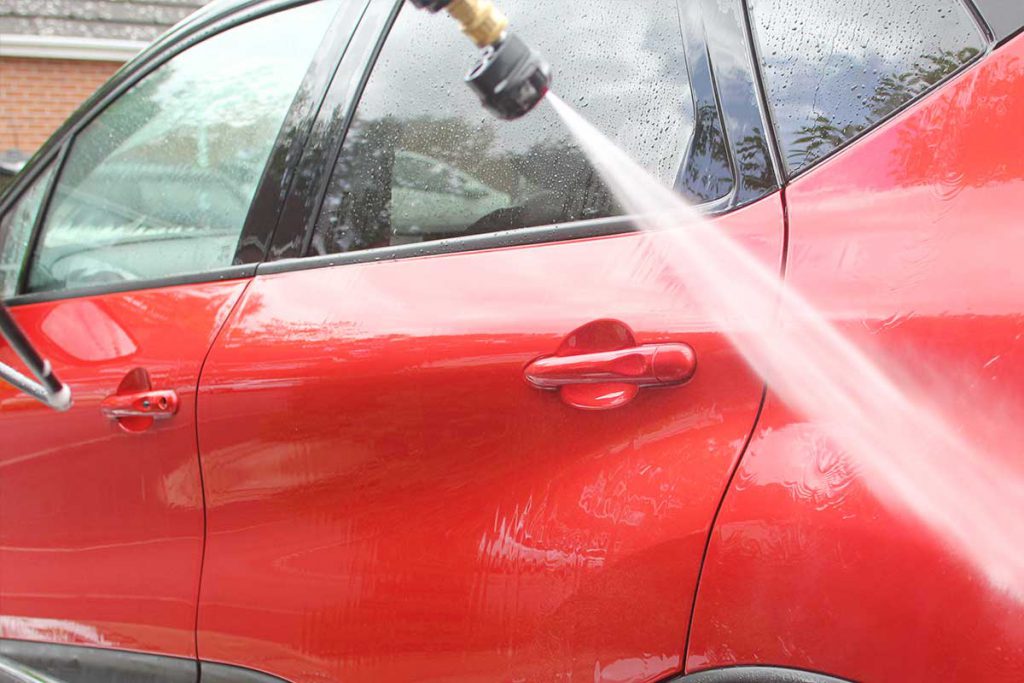 Next, rinse the exterior of your brand-new car with your pressure washer (preferred) or garden hose on jet setting. Larger, more visible particles of dirt and debris can be dislodged easily with a thorough rinse. Removing these larger dirt and grit fragments with water, in a contactless fashion, prevents them damaging the paintwork during the contact wash stage. 
After rinsing the exterior, open each door and carefully rinse the door sill and lower portions of the door jamb. Do the same for the tailgate, trunk lid or rear hatch. Dirt and grit can accumulate in these areas and often work their way out during the contact wash stage. 
Keep a clean microfiber towel in the car at this stage, to mop up any water splashes on interior surfaces.
STEP 4: Pre-Wash
If your brand-new car is heavily contaminated with traffic film, dirt and bug guts, you may want to apply a strong, dedicated pre-wash to the most contaminated areas of the bodywork. Citrus pre-cleaners and TFR (Traffic Film Removers) are a good choice. 
These chemicals are stronger than snow foams and car shampoos, so can break down or even strip waxes and other forms of paint sealants and paint protection. They should only be used on very dirty and heavily contaminated paint and not during a typical weekly maintenance wash.
Using a trigger spray or pump sprayer, apply your chosen chemical to those worst affected areas. Pay particular attention to the front bumper, hood, and lower side portions of the vehicle. These areas usually accumulate the most dirt and contamination. 
Allow the citrus pre-cleaner or TFR to dwell for a couple of minutes Then rinse off the treated areas with your pressure washer or garden hose. 
If your brand new car is not heavily contaminated, skip ahead to the next step.
STEP 5: Snow Foam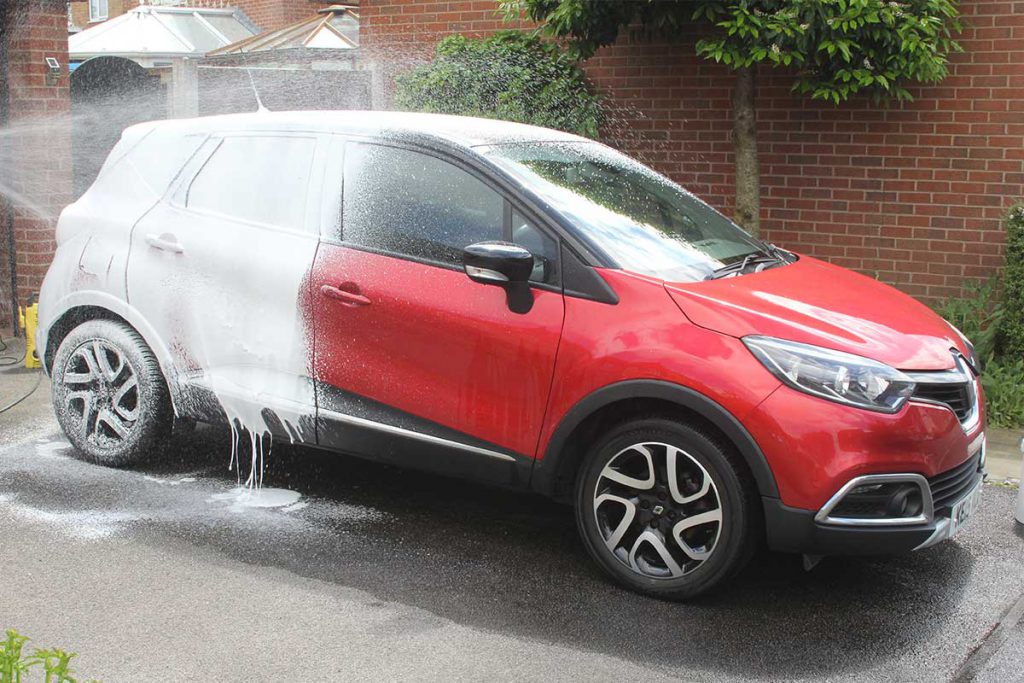 It's time to snow foam! The snow foam stage is everyone's favourite part of the safe wash procedure. Snow foaming your brand-new car may look cool but snow foam genuinely does perform an important job, helping you to safely wash your car.
In the previous step, we advised you to use a strong chemical pre-wash if your car is heavily contaminated with traffic film, dirt and bug guts. But what if your brand-new car isn't heavily contaminated with all these nasties? What if this is just weekly maintenance wash?
What is the benefit of using Snow Foam?
Snow foam is a pre-wash chemical but one which is milder than citrus pre-washes and TFR (Traffic Film Remover). Most snow foams are pH neutral and are designed to be gentle on your paintwork and non-damaging to waxes and other LSP (Last Stage Protection) products like synthetic waxes and paint sealants.
A good quality pH neutral snow foam is safe to use each and every time you wash your car.
When you apply snow foam to your brand-new car, the soaps and mild chemicals, when combined with water from your pressure washer, create a thick, soapy foam which traps, clings to, and emulsifies dirt particles on the surface of your paintwork.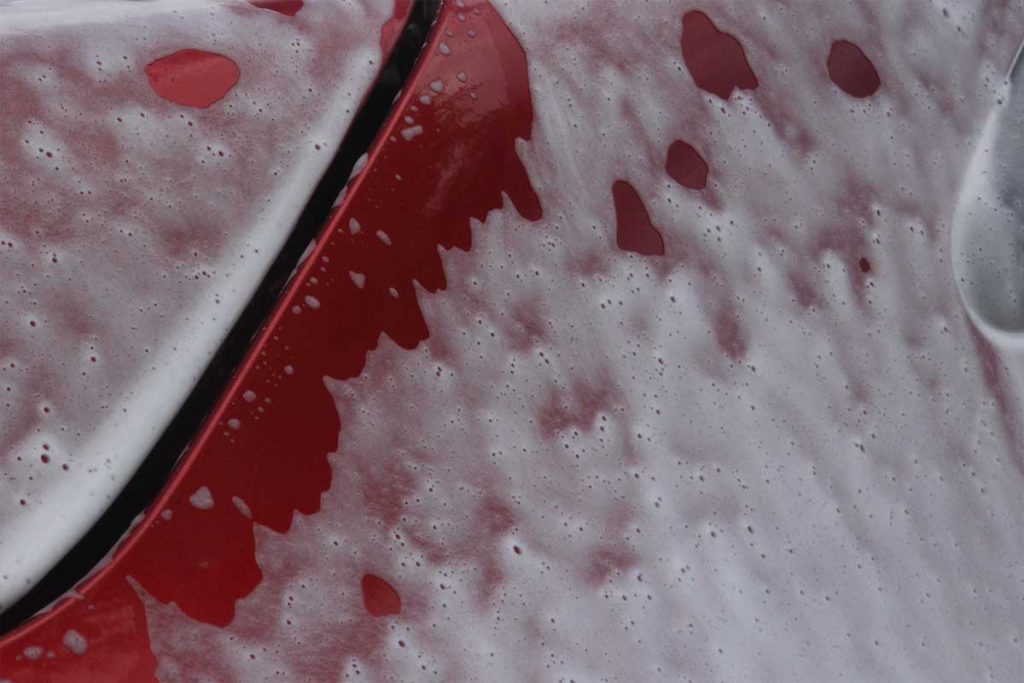 What does Snow Foam do?
The snow foam lifts these dirt particles, then gravity slowly pulls the dirty foam down and off the car safely. This is another example of contactless cleaning – the snow foam and gravity do the all work.
Add a measured dose of pH neutral snow foam with water, in the correct ratio, to yoursnow foam cannon. Apply a thick layer of snow foam to the entire car, coating each and every panel, from top to bottom. Allow the snow foam to dwell for a few minutes and slowly slide off your bodywork. Rinse off any remaining snow foam using your pressure washer or garden hose.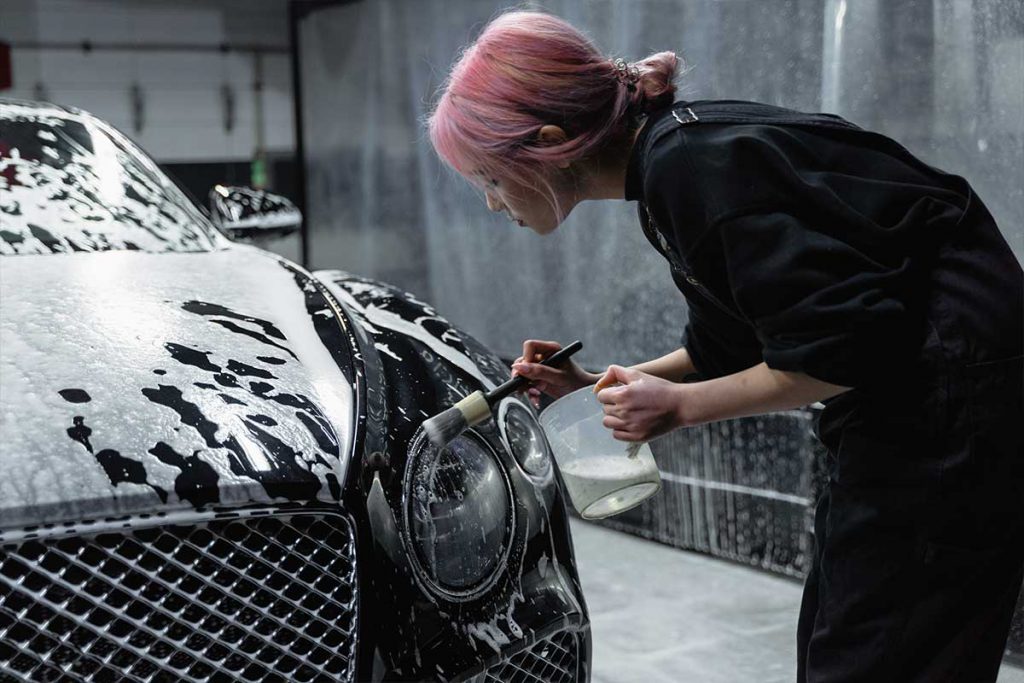 Whilst the snow foam dwells, grab a soft detailing brush and clean around badges, roof rail channels and other intricate areas.
If you don't have a snow foam cannon for your pressure washer, skip ahead to the next step.
If the any snow foam dries onto the paintwork, don't worry. Simply re-activate it with water and it will easily rinse away.
STEP 6: Contact Wash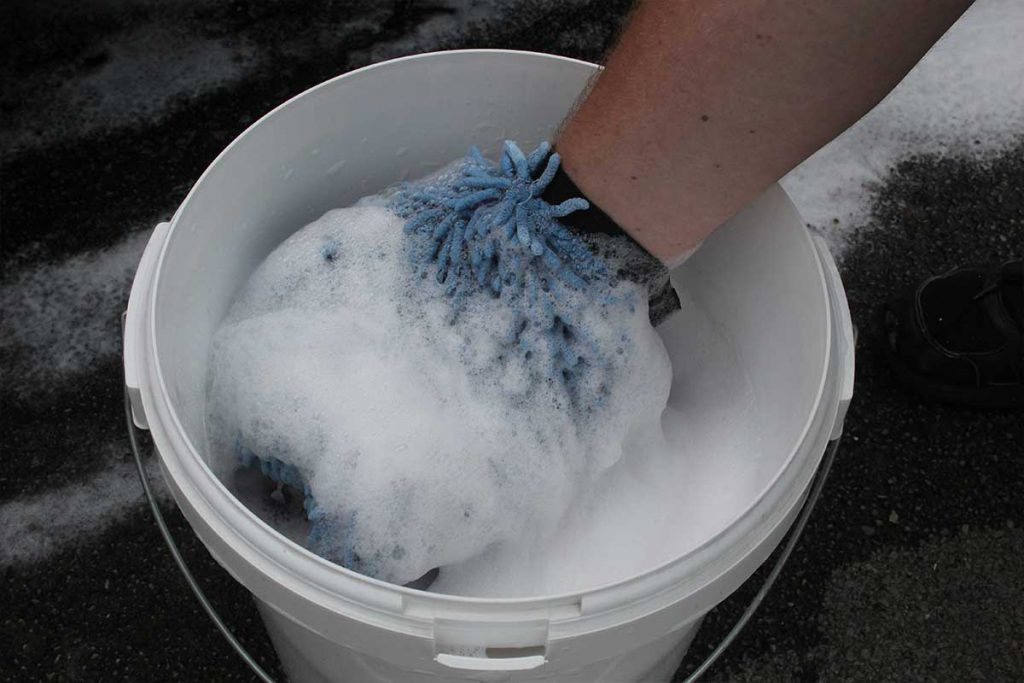 The next stage of the process is the contact wash. The best way to safely wash your brand-new car is using the two bucket car wash method. Fill both buckets with warm water. Cold water is fine but warm water helps improve the contact cleaning experience – especially during the colder months. If you have grit guards, make sure there is one in each of your two buckets.
Add a dose of your favourite pH neutral car shampoo to one bucket only. This is your wash bucket. The bucket containing water only is your rinse bucket. Use your pressure washer to mix the shampoo in the wash bucket and to generate thick, soapy suds.
If you have any snow foam solution left in your foam cannon, coat the car again with snow foam as more foam equals more lubrication which should help prevent swirl marks.
Next, dunk your wash mitt into the wash bucket. Starting at the top of the vehicle, gently wash one panel at a time. Use straight lines, front to back, applying minimal pressure. Let the soap, warm water and the weight of the shampoo laden wash mitt do the work. There is no need to 'scrub' your brand new paintwork.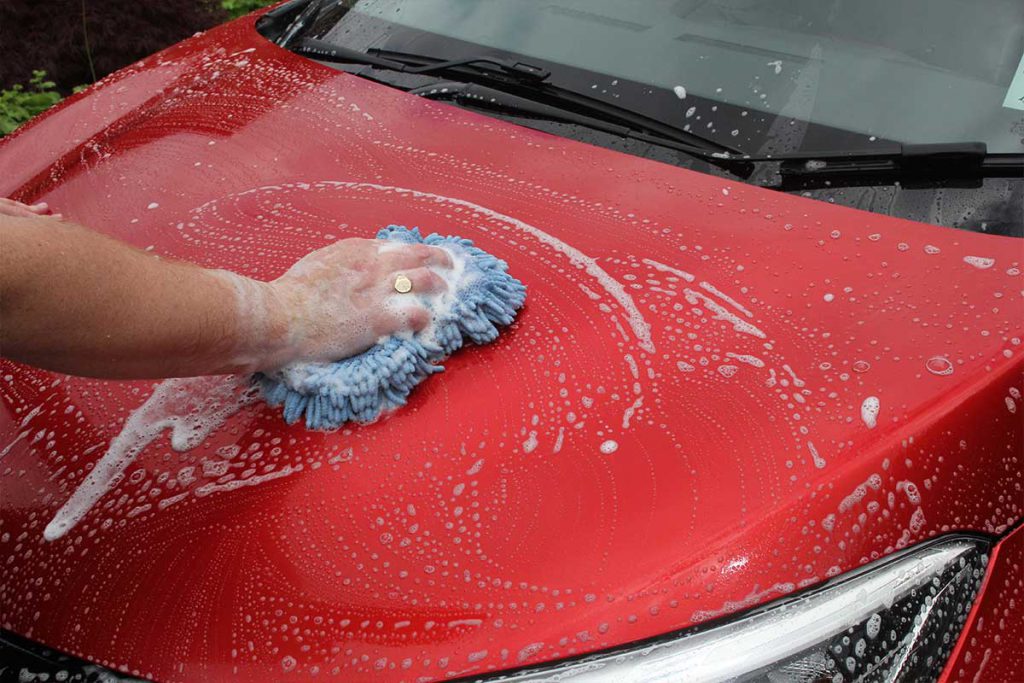 How to employ the Two Bucket Method
Once you've washed a panel, dunk your wash mitt into the rinse bucket which contains plain water. Agitate the wash mitt in the water to help remove any dirt particles trapped in the fibers of the mitt. 
If you have a grit guard in the bottom of your rinse bucket, scrub the mitt back and forth on the grit guard to remove even more dirt particles.
As you remove your freshly rinsed wash mitt from the plain water in the rinse bucket, try to squeeze out as much water as possible. Then dunk your wash mitt in your wash bucket, loading it with shampoo solution, before carefully washing the next panel.
Always work from top to bottom, and go around the vehicle, during the contact wash stage.
If you have a second wash mitt, use this on the lower panels of your brand-new car, where the dirt contamination is usually higher.
Chenille or 'Noodle' Wash Mitts are great for heavily soiled, lower areas.
After carefully washing each panel of the vehicle, remember to open the doors, trunk or tailgate and gently wash the door sills and door surrounds. Dirt can accumulate in these areas. It's important to clean these areas to minimise dirt transfer as to enter/exit your brand-new car.
STEP 7: Rinse
After carefully and safely washing each and every panel on your brand-new car, it's time to wash away any soap or car shampoo residue. Using your pressure washer or garden hose, rinse the car from top to bottom, paying particular attention to door shuts, panel gaps, door mirrors, grilles and intricate areas. 
The goal here is to rinse away all of the car shampoo from the paintwork. Take your time and work in a logical, thorough fashion. 
Once the car has been thoroughly rinsed, inspect your work – have you missed areas during the contact wash? If so, don't worry – it happens to us all! Grab your wash mitt, clean the dirty spot, rinse and check your work again.
STEP 8: Dry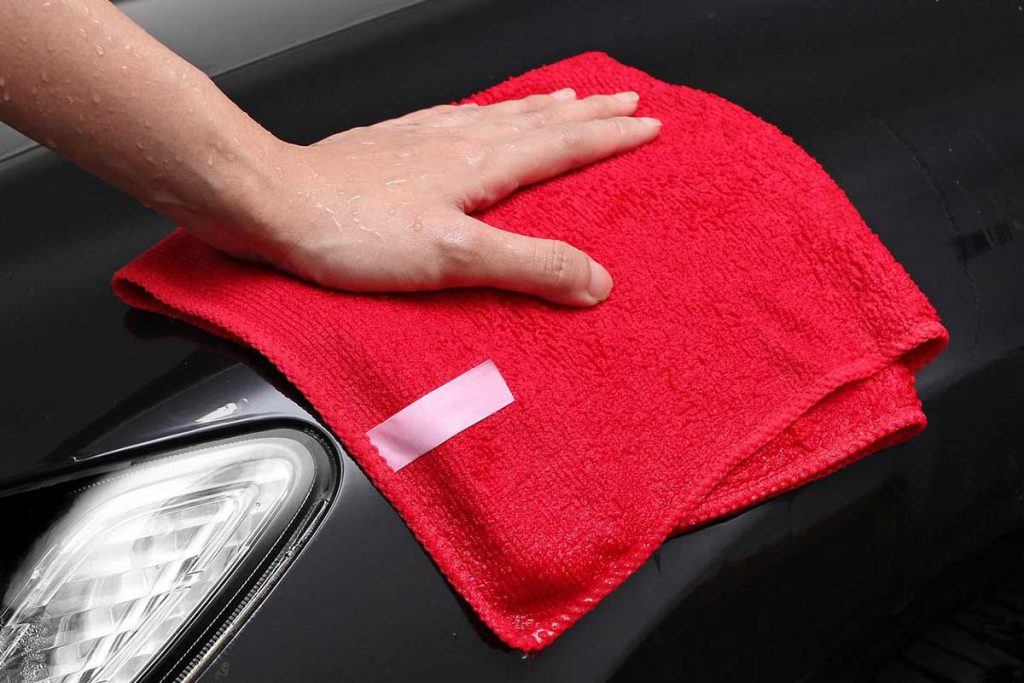 Use hot air to dry your car
With your brand-new car washed and fully cleansed, it's time to dry the paintwork. If you have a car dryer, this is the best way to dry your car as it involves no contact. Typically, car dryers use warm, filtered air to blow water off the paintwork. They can be particularly useful in getting trapped water out of intricate areas like door mirrors, wheels and brakes, roof rail channels, and panel gaps. 
If you don't have a dedicated warm air car dryer, then leaf blowers are a good alternative. The air may not be warm or filtered but you're not making contact with the paint, so this still helps to reduce swirl marks and marring.
Avoid using larger, gas powered leaf blowers as the exhaust fumes can contaminate your freshly clean paintwork.
Safely towel dry your new car
The most common way to dry a brand-new car is with a high quality, twisted loop, microfiber drying towel. Remember that 'any contact is bad contact'. Providing you're careful and use good quality towels, any swirl marks or marring will be minimal. You can reduce swirls and marring by spritzing each panel with a drying aid or Quick Detailer. The drying aid or QD will add a little lubrication and as you move the towel over the paintwork.
Again, working from top to bottom, and around the vehicle, dry each panel one at a time. There are different methods open to you at this stage. Some people lay the towel on the panel and 'pat dry' each section. Some lay the towel out and slowly drag it over each section, allowing the fibers to soak up the water. Others fold the towel, dry a panel, then flip the towel to a dry section before drying the next panel.
The key aspect to drying your brand-new paintwork with a towel is to be methodical, gentle and allow the towel time to soak up the water. Let the towel do the work for you. Remember that car bodywork is a lot more delicate than your own skin.
Use a separate towel or squeegee for the glass. Never use a squeegee on paint!
Use filtered water to dry your car!
There is one final way to dry your car. If you have a water filtration system which purifies water and removes minerals in hard water, you can simply let air dry the freshly cleaned paintwork. The filtered water will simply evaporate, leaving no trace. There will be no unsightly mineral deposits but depending on the ambient temperature and prevailing weather conditions, it could take a while to dry! This method works well in warmer climates and during the summer months, but isn't really practical during the winter months.
STEP 9: Paint Protection & Tire Dressing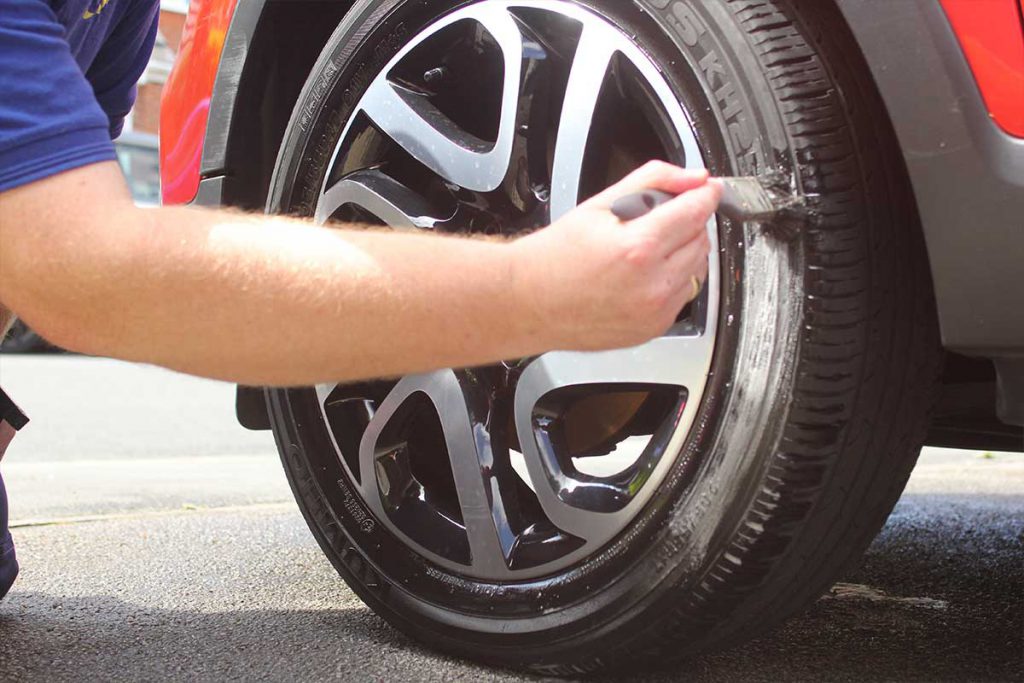 Your brand-new car is now clean, dry and looking fabulous! But we're not quite done just yet. Now is the perfect time to add some extra protection to the car's paintwork to both enhance the color and to protect the finish. 
Applying some form of paint protection now will also make the next wash easier, quicker and safer. There will be less dirt and contamination on the paint next time you wash the vehicle. 
There are a hundreds of different options for LSP (Last Stage Protection) products from traditional waxes to multi-stage ceramic coatings. In this guide we're going to outline a few of the quick and easy options that offer the best 'bang for buck' for your brand new car.
Paste/Liquid/Spray Wax
Synthetic Spray Sealant
Quick Detailer Spray (QDS)
SiO2 or Graphene QDS
Tire and Trim Dressing
Paste Wax, Liquid Wax, Spray Wax 
Wax is still a firm favourite when it comes to Last Stage Protection. They are easy to apply, easy to buff off and leave your car looking super-slick, super-shiny and ready for the car show. Traditional carnauba waxes offer limited protection but synthetic polymer based waxes are more robust. Spray waxes may have a limited lifespan once applied but being quick and easy to apply is a big advantage.
Choose carnauba waxes for warm colored vehicles and synthetic waxes for cold colors.
Synthetic Spray Sealant 
Synthetic Spray Sealants have superior chemical resistance. This means that with care, they can remain effective even after several hundred miles and several washes. Fast and simple to apply they are a great year-round option.
Quick Detailer Spray 
Professional detailers often use QDS to quickly and safely remove polish residue, finger prints and light dust from a freshly detailed vehicle. Many QDS products contain gloss enhancers but few offer any real longevity or chemical resistance.
SiO2 or Graphene Quick Detailer Spray 
SiO2 and Graphene QDS offer the properties of the QDS products described above with the added chemical resistance and longevity afforded by the SiO2 (Ceramic) or Graphene component.
Tire and Trim Dressing 
Dressing and protecting plastic trim and tires helps to 'frame' your paintwork making it 'pop' even more. A good quality tire dressing not only darkens your rubber but protects it from UV damage and other forms of contamination.
Trim dressings darken and protect exposed and textured plastic areas. They help to prevent bleaching by strong sunlight and increasing hydrophobicity and dirt repellency.
Whilst there are many more paint protection products on the market than the few highlighted here, we suspect that you'll want to spend more time driving your brand-new car, than washing and detailing it! 
STEP 10: Clean & Re-Prep Equipment
Stand back and behold your clean, slick, glossy new car – it's finished and doesn't it look amazing! All that's left to do is pack away your equipment, ready for your next maintenance wash in a few miles time.
Whist technically this is isn't a step in the wash procedure for washing a brand new car, it's one that is often overlooked. So here are a few quick tips to help look after your products and equipment, making sure they're safe and ready for the next car wash.
Carefully launder your Microfibers
Grab your microfiber wash mitts, chenille noodle mitts, microfiber cloths and vehicle drying towels. Now, throw them in your washing machine. Where possible use a dedicated, specialist microfiber laundry liquid to clean these items. Follow the detergent instructions and wash the items paying careful attention to the care instructions for each item. If you don't have any microfiber laundry liquid, use a gentle, liquid laundry detergent.
Avoid using laundry powder, laundry pods and fabric conditioners. Wash and dry in accordance with the temperature and care instructions for each mitt, cloth and towel.
Carefully empty your buckets and rinse the buckets and grit guards with clean running water. Clean and rinse any tools or brushes that you may have used. Then once dry, store in a clean, dust free container.
Five gallon buckets with lids make great containers to store clean, dry brushes and wash mitts.
Flush your snow foam lance or soap dispenser with clean water to remove previously used chemicals. Carefully coil your hoses and store your pressure washer, hoses, lances and foam cannon securely. 
Collect your car cleaning product bottles and trigger sprays. Ensure the bottle lids are secure and spray heads are locked in the 'off' position. Store these upright, out of direct sunlight, and out of the reach of small children.
Give your product bottles a gentle shake before using them next time, to ensure the chemicals are mixed correctly.
Conclusion
Now you know how to wash a brand new car. To keep your brand-new car looking 'like new', follow these simple steps and your paintwork will 'pop' for longer. If you want to take your detailing game to the next level, check out some of our other How-To Guides!